Figure 1. Colour photograph of the right eye at presentation demonstrating a multilayered haemorrhage and hard exudate involving the macula.
A 72-year-old woman was referred with acute painless vision loss in her right eye.
A 72-year-old lady was referred by her optometrist complaining of a one day history of a scotoma involving the central vision of her right eye.

She had no previous ophthalmic history and had not seen an optometrist for a number of years. Her past medical history included hypertension, previous transient ischaemic attack (TIA) and hypercholesterolaemia. Her medications included aspirin, perindopril/indapamide (Coversyl Plus) and simvastatin (Zocor). She was a previous smoker having stopped more than 15 years previously.

Visual acuity was counting fingers (CF) in the right eye (OD) and 6/9+ in the left eye (OS). There was no relative afferent pupil defect (RAPD). Examination of the right fundus (Figure 1) revealed a multilayered retina haemorrhage, with darker subretinal haemorrhage in the inferior part involving the macula, and superficial nerve fibre layer haemorrhage more superior to this. There was a small amount of vitreous haemorrhage inferiorly. In the centre of the haemorrhage was a paler area. Hard exudate was present surrounding the haemorrhagic region and tracking towards the macula.

There were chronic hypertensive retinal vascular changes with AV nipping and copper wiring. There was no disc swelling. In the left eye, aside from similar chronic hypertensive changes, the retinal examination was unremarkable.

Grade 3+ nuclear sclerotic cataracts were present bilaterally. Intraocular pressures were OD 18mmHg and OS 17 mmHg.
The differential diagnosis for a multilayered retinal haemorrhage (concomitant subretinal, intraretinal and vitreous haemorrhage) includes:

Choroidal neovascularisation (CNV)

Ruptured retinal macroaneurysm

Terson's syndrome (following subarachnoid haemorrhage)
Additional history, examination and investigations
Optical coherence tomography (OCT) through the right macula demonstrated subretinal fluid and intraretinal hyperreflective deposits consistent with the hard exudate. (Figure 2).

Fluorescein angiography (Figure 3) demonstrated filling of a retinal artery macroaneurysm during the arterial phase of the angiogram. This corresponded to the pale area seen in the colour image at the centre of the haemorrhage. The retinal vessels can be seen running over the areas of subretinal haemorrhage but are blocked by the superficial retinal haemorrhage surrounding the aneurysm.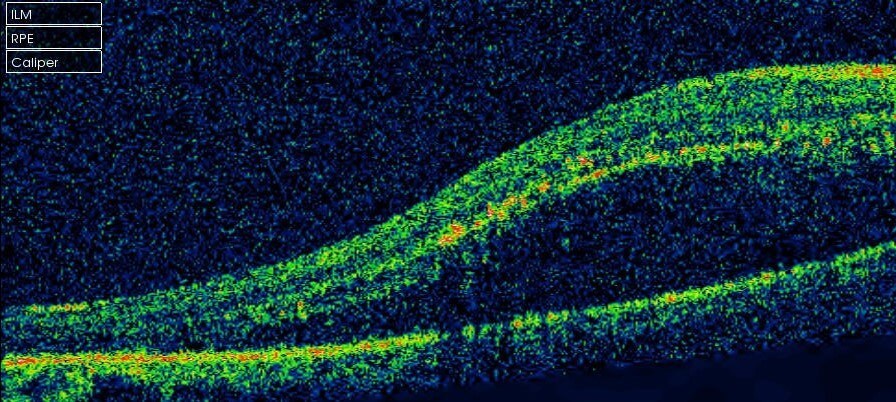 Figure 2. Right optical coherence tomography (horizontal raster scan) through the macula at presentation demonstrated subretinal fluid and hard exudate.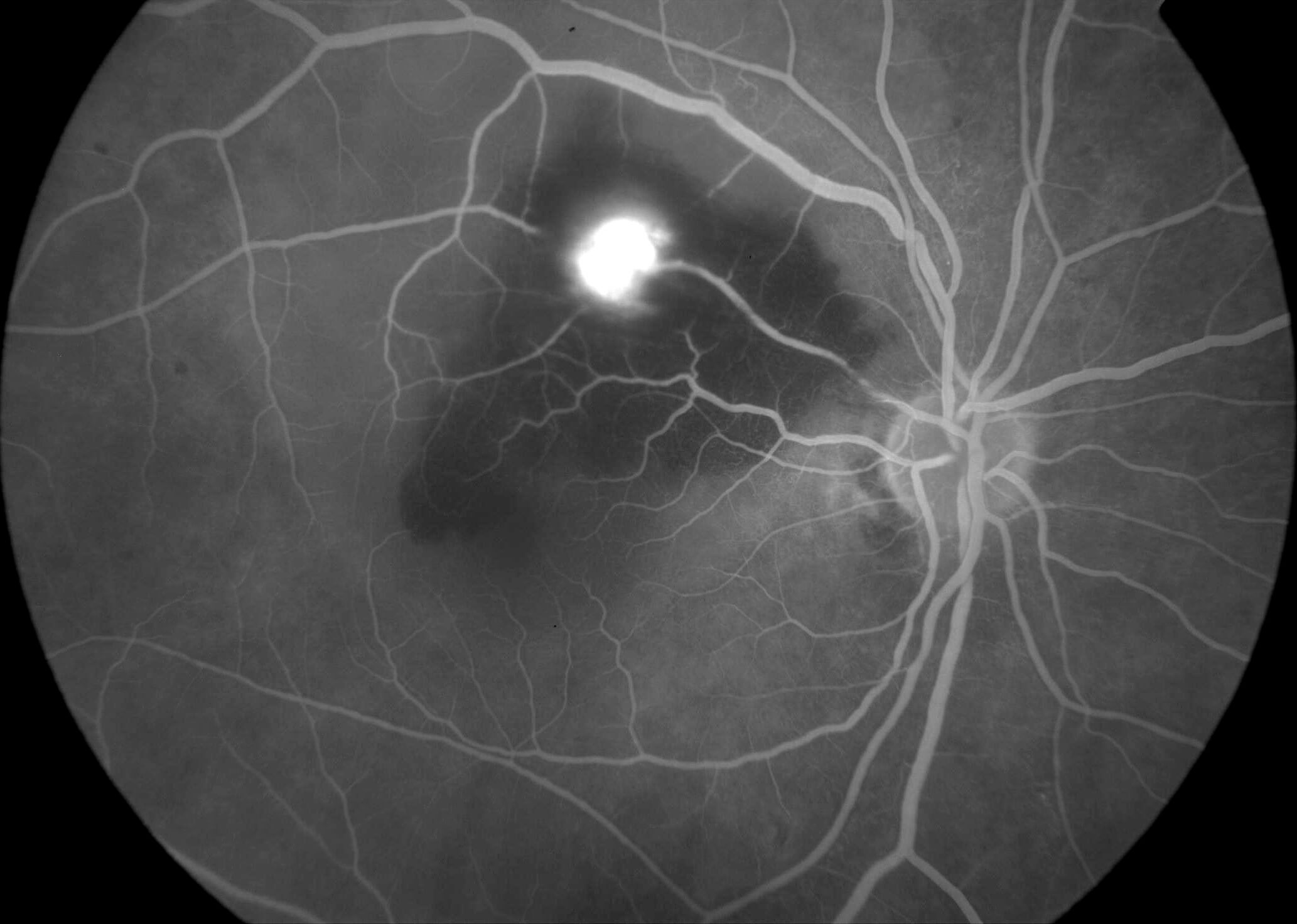 Figure 3. Right fundus fluorescein angiography demonstrates a leaking saccular retinal artery macroaneurysm at the centre of the multilayered retinal hemorrhage.
DIAGNOSIS
Right retinal artery macroaneurysm complicated by haemorrhage and exudation.
Direct laser ablation was applied to the leaking macroaneurysm (Figure 4). In the months following laser ablation of the aneurysm there was progressive absorption of subretinal fluid and haemorrhage (Figure 5). Despite an early increase in hard exudate, at nine months post laser, all haemorrhage and hard exudate had resolved and visual acuity had improved to 6/15-.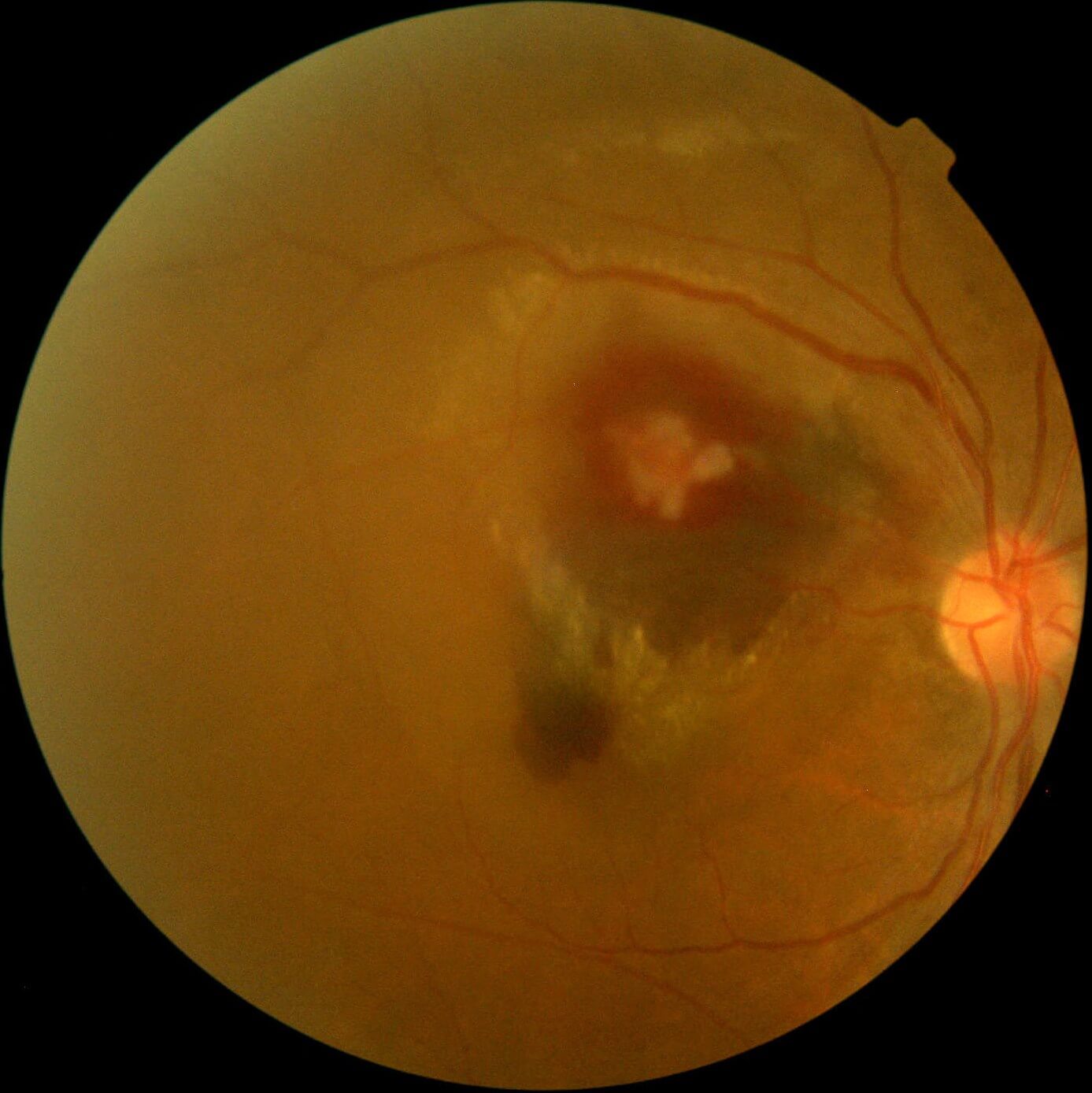 Figure 4. Colour photograph immediately following argon laser treatment of the macroaneurysm.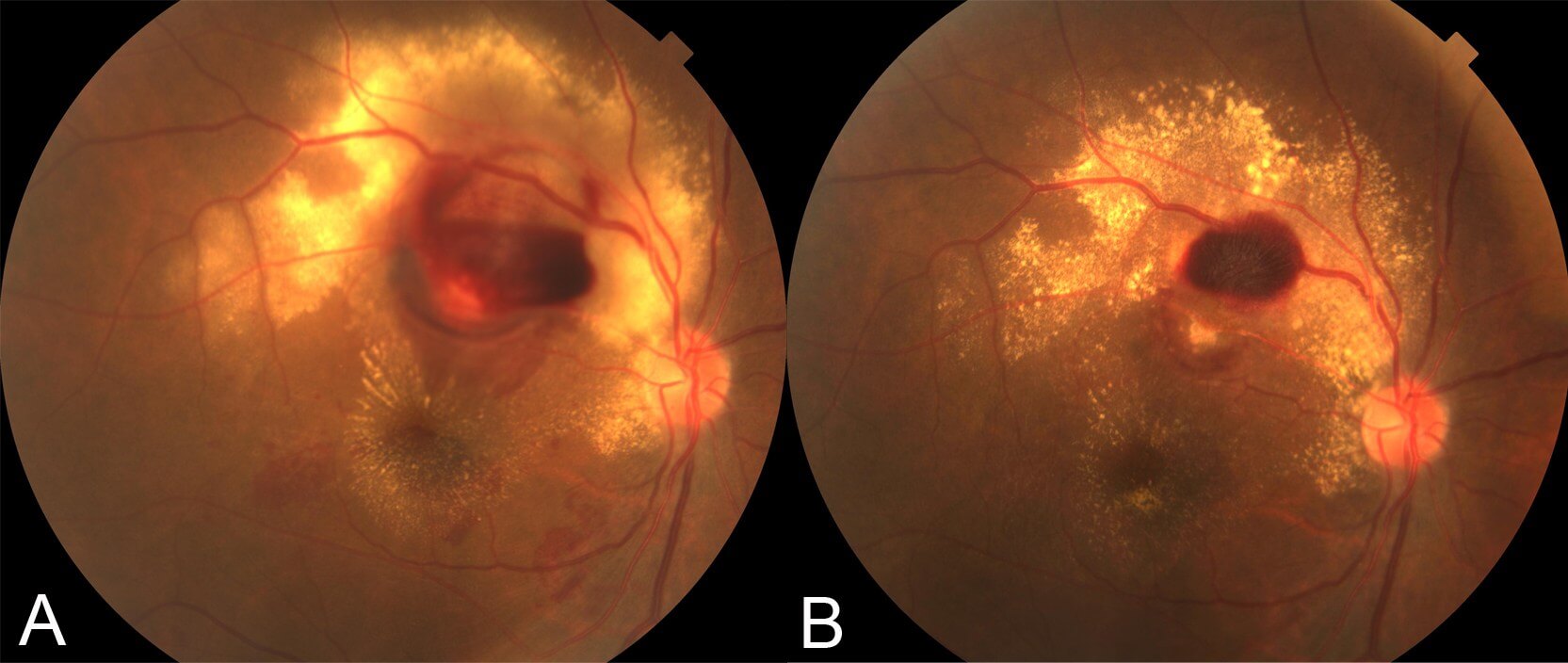 Figure 5. A) At one month following laser the subretinal fluid had cleared from the macula. There is significant lipid deposition evident. B) At four months following laser the lipid and haemorrhage is resorbing. The thrombosed macroaneurysm is seen inferior to the residual superficial retinal haemorrhage. Visual acuity is 6/24 at this stage.
Retinal arterial macroaneurysms (RAMs) are acquired focal dilations of retinal arterial branches. While the majority of macroaneurysms are primary they can be seen complicating branch retinal vein occlusion, diabetic and radiation retinopathy. Most commonly retinal arterial macroaneurysms are asymptomatic but can cause vision loss by:

Exudation/macula oedema

Retinal/vitreous haemorrhage from rupture or

Arteriolar occlusion distal to the aneurysm from thrombosis(1)
The most typical demography for patients presenting with retinal arteriolar macroaneurysm is similar to the patient in this case, older female patients with a history of hypertension.
(1,2)
Clinically RAMs are seen most commonly in the temporal retina
(2)
. It is important to look for any signs of associated exudation and haemorrhage as this may influence management.
There are no agreed guidelines for the management of retinal artery aneurysms
(2)
. A majority of macroaneurysms will follow a benign course of thrombosis, fibrosis and spontaneous resolution with return to prior visual acuity.
(1,2)
Isolated retinal aneurysms with no exudation or haemorrhage can be observed but patients should review their cardiovascular risk factor control, in particular hypertension, with their physician.
In cases of ruptured macroaneurysm with vision loss due to non-clearing vitreous haemorrhage, vitrectomy may be considered. Non clearing subhyaloid haemorrhage over the macula can be treated with YAG hyaloidotomy or vitrectomy. If there is significant subretinal haemorrhage, surgical pneumatic displacement can be considered.
Exudative macroaneurysms involving or threating the macula can be considered for ablation with argon laser. More recently intravitreal anti-VEGF agents have been associated with faster resolution of macular oedema, haemorrhage and improvement in vision.
(3,4)
TAKE HOME POINTS
Retinal artery macroaneurysms are focal dilations of the retinal artery branches, most commonly seen in the temporal retina.


Patients often older females with hypertension.


Vision loss can be caused by hemorrhagic rupture and/or exudation leading to macula oedema.


The differential diagnosis for multilayered retinal haemorrhages (sub, intra and preretinal/vitreous) in adults includes: neovascular AMD (CNV), ruptured retinal artery macroaneurysm and Terson's syndrome.
REFERENCES

Rabb M., Gagliano D., Teske M. Retinal arterial macroaneurysm. Surv Ophthalmol. 1988; 33: 73–96.

Moorsavi RA, Fong KC, CHopdar A. Retinal artery macroaneurysms: clinical and fluorescein angiographic features in 34 patients. Eye (Lond) 2006; 20: 1011-1020

Pichi F, Morara M, Torrazza C, et al. Intravitreal bevacizumab for macular complications from retinal arterial macroaneurysms. Am J Ophthalmol 2013;155(2):287-294

HJ Cho, Rhee TK, Kim HS et al. Intravitreal Bevacizumab for Symptomatic Retinal Arterial Macroaneurysm Am J Ophthalmol 2013;155: 898-904
Back