Figure 1. Bilateral optic disc swelling with blurring of the disc margins and retinal nerve fibre layer haemorrhages.
A 37-year old lady was referred from an optometrist with a two-week history of mild frontal headache and transient loss of vision.
A 37-year-old recently married lady was referred by her optometrist with a two-week history of mild frontal headaches and transient visual obscurations. She suffered obesity and weighed 146kg, having put on 5-10kg over the last year. There were no other associated symptoms such as diplopia, vomiting, fevers, speech disturbance or limb weakness. Past medical history included tonsillectomy. She had an Implanon® (etonogestrel, a steroidal progestin) contraceptive implant, but was on no other medications. She smoked 10-15 cigarettes daily.

Visual acuities were 6/6 unaided in both eyes (OU). Intraocular pressures were normal at 15mmHg OU. Blood pressure was 130/91mmHg. Both eyes were quiet with severely swollen optic discs causing blurring of the disc margins (Figure 1). Nerve fibre layer haemorrhages were present at both optic discs and spontaneous venous pulsations were absent. Both maculae were normal, and Ishihara colour vision testing was normal.
The differential diagnosis for bilaterally swollen optic discs includes:
A) Malignant hypertension
B) Raised intracranial pressure (papilloedema) secondary to:

Space occupying lesion of the brain (tumour, abscess)

Hydrocephalus

Cerebral haemorrhage (subdural, subarachnoid, or extradural)

Cerebral venous sinus thrombosis

Idiopathic intracranial hypertension
C) Bilateral optic neuritis (e.g. sarcoidosis, demyelinating disease)
D) Bilateral optic nerve tumours
E) Pseudo-disc swelling (eg. buried disc drusen)
Additional history, examination and investigations
Humphrey visual field tests 24-2 showed bilateral enlargement of the physiological blind spots (Figure 2), and some mild scattered peripheral field defects. Magnetic resonance imaging (MRI) and venography (MRV) of the brain was normal, with no intracerebral abnormality or cerebral venous sinus thrombosis. A partially empty sella was seen which can be associated with intracranial hypertension. Bloods including FBC, UEC and LFT's were normal. A neurologist was consulted to perform a lumbar puncture, which showed an elevated intracranial pressure at 34cmH2O. Analysis of the cerebrospinal fluid showed normal protein and glucose and no white blood cells, red blood cells or organisms.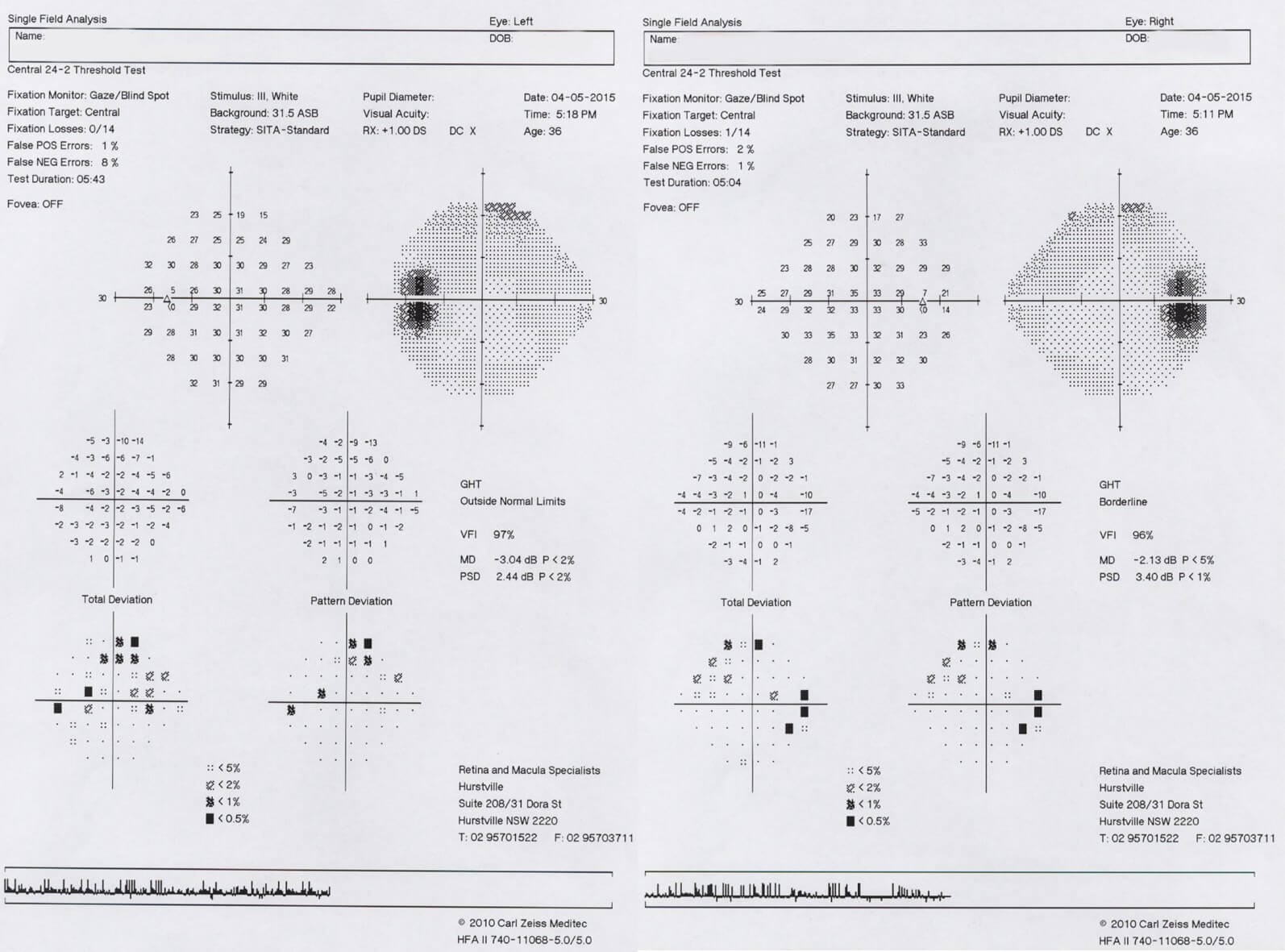 Figure 2. Humphrey Visual Field tests showing bilateral enlarged blind spots.
DIAGNOSIS
Idiopathic intracranial hypertension.
The patient was commenced on oral acetazolamide (Diamox) 250mg qid for 2 weeks, tapering down to 250mg daily over 3 months. She was also told about the importance of weight loss in the treatment of this condition, and saw a dietitian and her general practitioner to assist with this. Underlying medical causes for her obesity, such as Cushing's disease, was excluded. Her Implanon® contraceptive implant was removed.

Three weeks after commencing treatment her vision remained 6/6 OU. She reported resolution of her transient visual obscurations and headache. She had some mild paraesthesiae in her hands from the acetazolamide tablets, but otherwise had no other side effects. Serum electrolytes were monitored, as sodium and potassium levels can be lowered by acetazolamide.

The optic nerve head swelling and blind spot enlargement were resolving by 5 weeks, and had completely resolved by 3 months (Figure 3). Humphrey visual fields had also returned to normal by then (Figure 4). Over a 10-week period, OCT of the retinal nerve fibre layer showed a reduction in thickness from 125μm to 101μm (right eye) and 132μm to 97μm (left eye) (Figure 5).

The patient is now keen to fall pregnant and cease Diamox treatment as soon as possible. This can only really be safely stopped once she has lost some weight, albeit only as little 8-10kg.(4)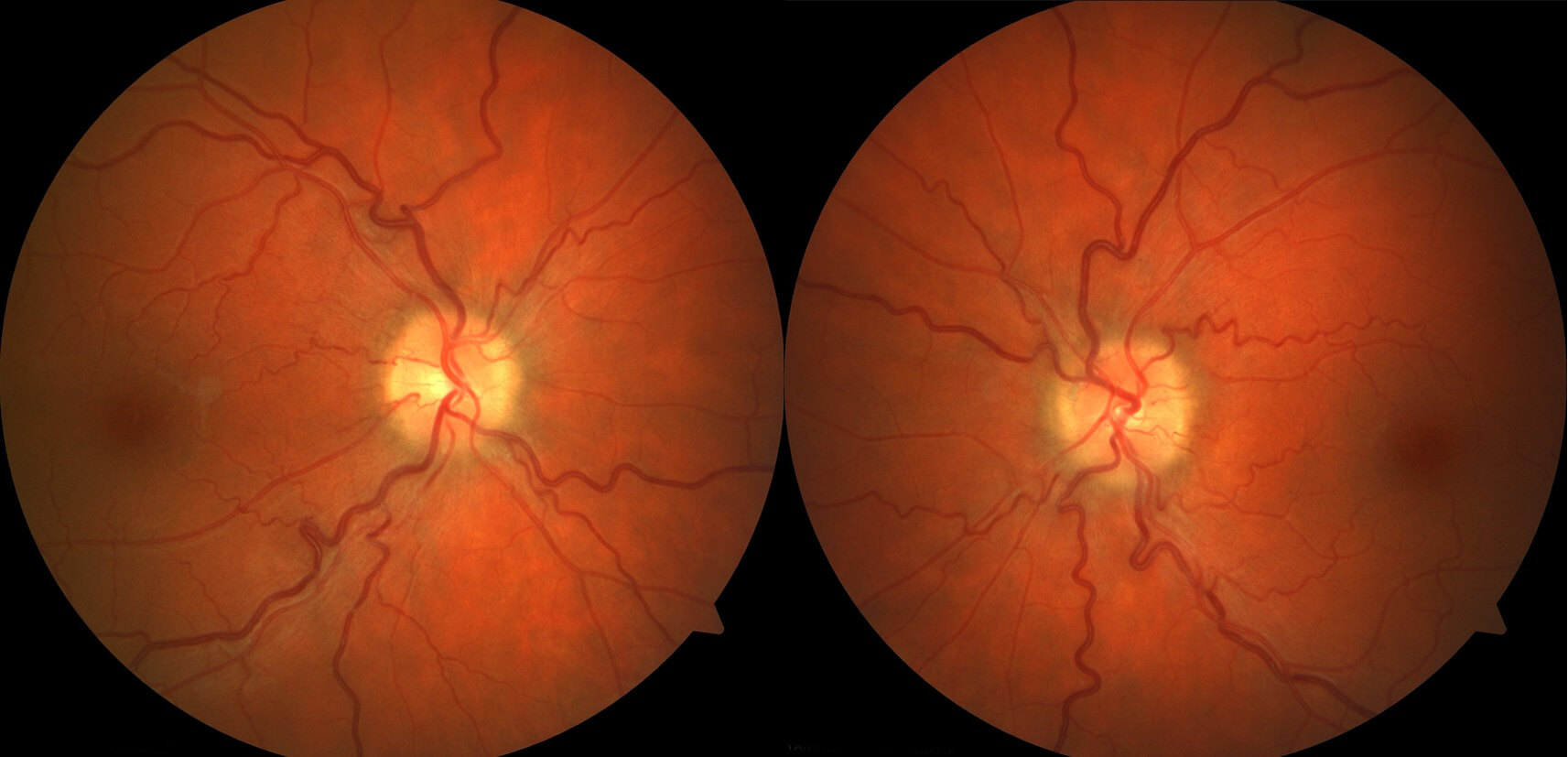 Figure 3. Resolution of the optic disc swelling, 3 months after commencement of acetazolamide (Diamox).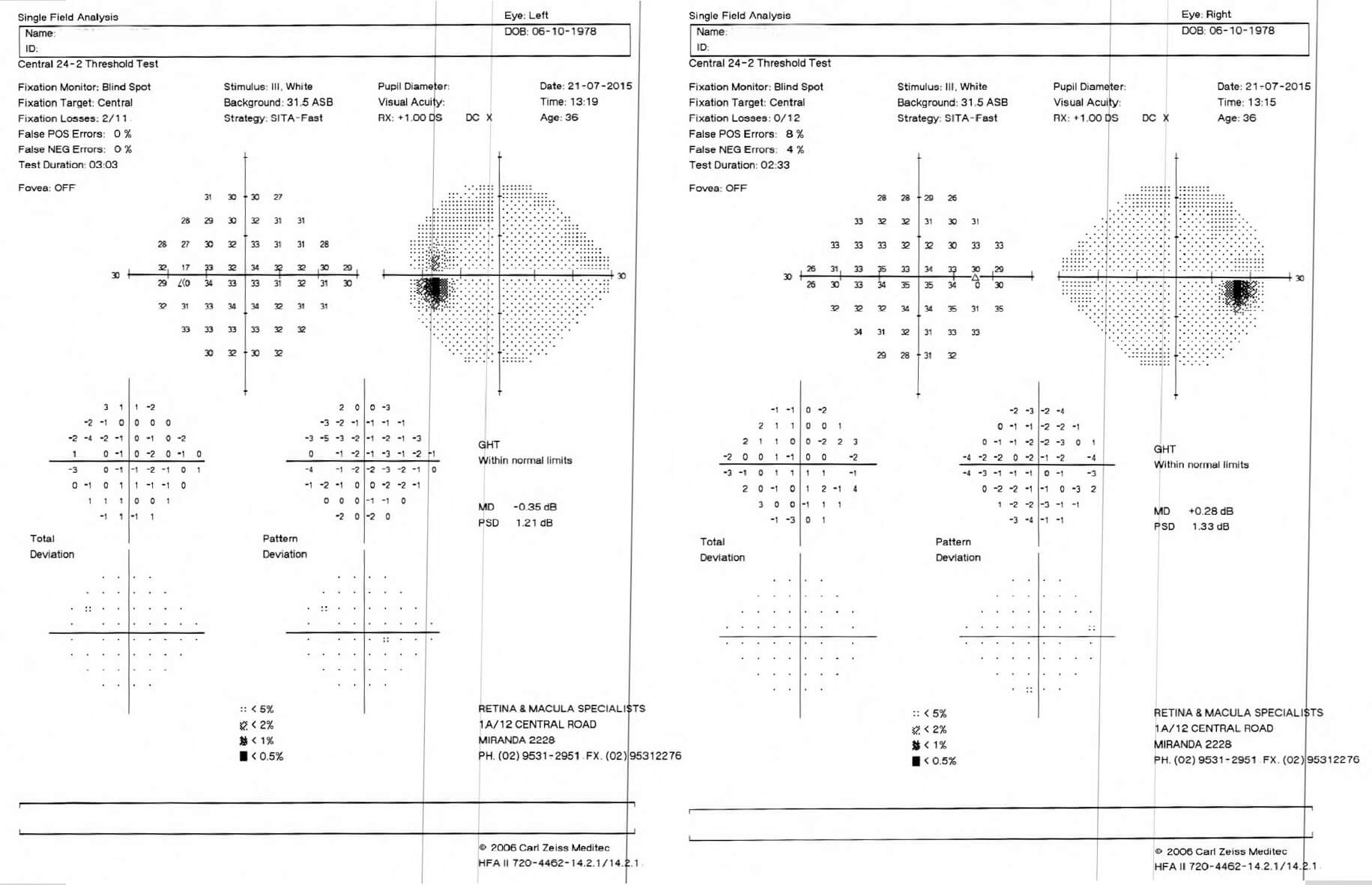 Figure 4. Restoration of normal visual fields, 3 months after commencement of acetazolamide (Diamox).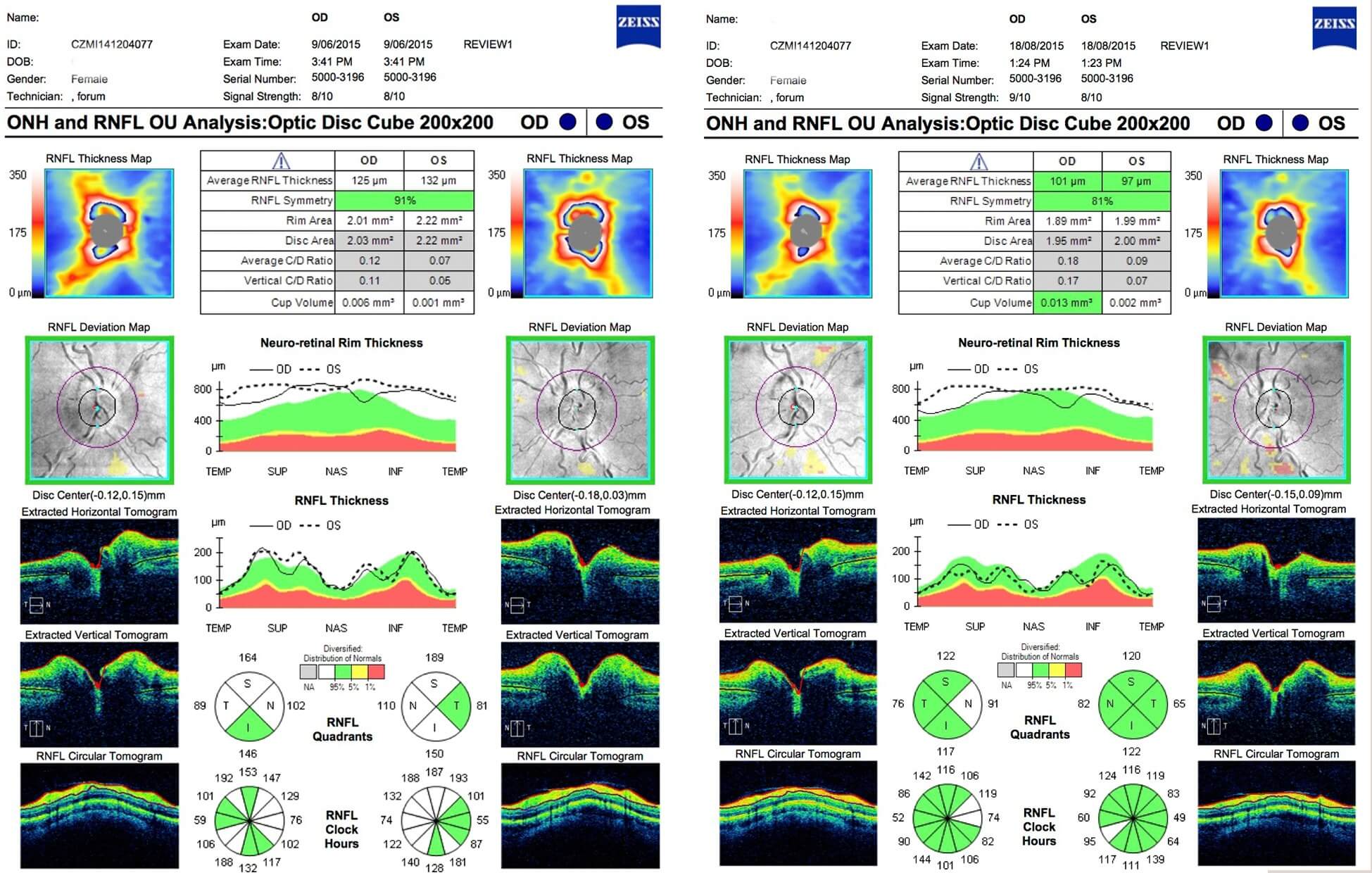 Figure 5. Over a 10-week period OCT of the retinal nerve fibre layer showed a reduction in thickness from 125μm to 101μm (right eye) and 132μm to 97μm (left eye).
Idiopathic intracranial hypertension (IIH), presents with symptoms and signs of raised intracranial pressure. Headache, nausea and vomiting are common, and additional complaints may include transient visual obscurations (secondary to papilledema), diplopia (secondary to sixth nerve palsy), visual field loss, pulsatile tinnitus, and dizziness. Most patients (>90%) with IIH have papilloedema (optic disc swelling secondary to raised intracranial pressure). Other neurological abnormalities are usually absent. As is typical with acute papilledema, visual acuity is most often normal; visual fields may show an enlarged blind spot but usually no additional defects. In longstanding, untreated, or severe cases, optic nerve function may deteriorate, with the development of visual field defects.

Previously the condition had been called "benign intracranial hypertension" or "pseudotumour cerebri". However, various studies emerged which showed the high incidence of visual loss, and the nomenclature was changed to IIH.(1) Vision or visual field loss was noted in 49% of patients and 6-24% had severe vision loss (less than 6/60), which was sometimes permanent.(2) Bilateral blindness developed in 10% of patients.(3)

Adult patients who present with papilloedema and symptoms of raised intracranial pressure need urgent multidisciplinary assessment including neuroimaging to exclude life-threatening causes. Blood pressure needs to be checked to exclude malignant hypertension. Neuroimaging, best in the form of a MRI brain and orbits, and MRV (venogram), is done to exclude a space occupying lesion or cerebral venous sinus thrombosis. Hydrocephalus and cerebral haemorrhage are other important differential diagnosis to exclude. A lumbar puncture should also be performed by a neurologist, which usually shows a cerebrospinal fluid pressure greater than 20cm H20 and the fluid to be cytologically and chemically normal.(4) When there is no apparent underlying cause found for the elevated intracranial pressure, IIH can be diagnosed.

The primary treatment of IIH is medical: weight loss; withdrawal of any offending medications such as contraceptive agents or tetracyclines; and the administration of carbonic anhydrase inhibitors, such as acetazolamide (Diamox). Our patient was very fortunate in that she responded well to Diamox and having her Implanon® implant removed. Some patients are intolerant of the Diamox, or have progressive visual loss or severe headache despite maximal medical therapy. Dural venous sinus stenting and optic nerve sheath fenestration are potential surgical alternatives for such patients.
TAKE HOME POINTS
Papilloedema refers to optic disc swelling due to raised intracranial pressure.


All patients with optic disc swelling should be suspected of having an intracranial mass until proven otherwise.


Idiopathic intracranial hypertension (IIH) is a diagnosis of exclusion: There is raised intracranial pressure in the absence of an intracranial mass lesion or hydrocephalus, with normal cerebrospinal fluid constituents (on lumbar puncture).


90% of patients with IIH are obese women of child-bearing age.


Visual loss such as blindspot enlargement in IIH may occur either early or late in the disease process and is usually insidious.


Weight loss is the most important component of treating the condition. Acetazolamide (Diamox) is the most common medical treatment.
REFERENCES

Wall M, George D. Idiopathic Intracranial Hypertension. A prospective study of 50 patients. 1991;114:155-180.

Corbett JJ, Savino PJ, Thompson HS, et al. Visual loss in pseudotumour cerebri. Follow-up of 57 patients from five to 41 years and a profile of 14 patients with severe visual loss. Arch Neurol. 1982;39:461-474.

Mollan SP, Markey KA. A practical approach to, diagnosis, assessment and management of idiopathic intracranial hypertension. Pract Neurol. 2014;0:1-11.

Johnson LN, Krohel GB, Madsen RW, et al. The role of weight loss and acetazolamide in the treatment of idiopathic intracranial hypertension. 1998;105:2313-2317.

Burgett RA, Purvin VA, Kawasaki A. Lumboperitoneal shunting for pseudotumour cerebri. 1997; 49:734-739.
Back