Figure 1. A localised elevation is present at the left macula. Multiple subtle dot like yellow precipitates are visible within the serous detachment.
A 32-year-old man was referred with blurring of his left central vision.
A 32-year-old male high school teacher was referred by his optometrist with a three-month history of blurred vision in his left eye. The patient had no past ophthalmic history. Past medical history included hayfever for which the patient self medicated with Rhinocort® (budesonide) nasal spray.

Visual acuity was 6/5 in the right eye (OD) and 6/15+ (pinhole 6/12) in the left eye (OS). Refraction measured by the patient's optometrist was OD +0.75D and OS +1.50/-0.25x 95°. There was a serous retinal detachment involving the left macula (Figure 1). Multiple subtle yellow deposits were noted within this, but there was no haemorrhage or hard exudates. The cup:disc ratio was 0.5 with no disc pit. There were no inflammatory cells in the anterior chamber or vitreous. Peripheral retinal examination and the right fundus were normal. Blood pressure was 118/ 74 mmHg.
The differential diagnosis for a serous (exudative) retinal detachment includes:

Central serous chorioretinopathy

Inflammatory (Vogt-Koyanagi-Harada disease, posterior scleritis, choroiditis)

Choroidal neovascular membrane (AMD, myopic CNV)

Malignant hypertensive retinopathy

Neoplastic lesions (choroidal melanoma, choroidal haemangioma)
Additional history, examination and investigations
Optical coherence tomography (OCT) through the left macula demonstrated subretinal (subsensory) fluid (Figure 2). An accumulation of material was noted on the underside of the detached retina. Hyperreflective dots were noted within this material and also within the retina itself. Fundus autofluorescence imaging demonstrated hyperautofluorescent dots within the serous retinal detachment (Figure 3).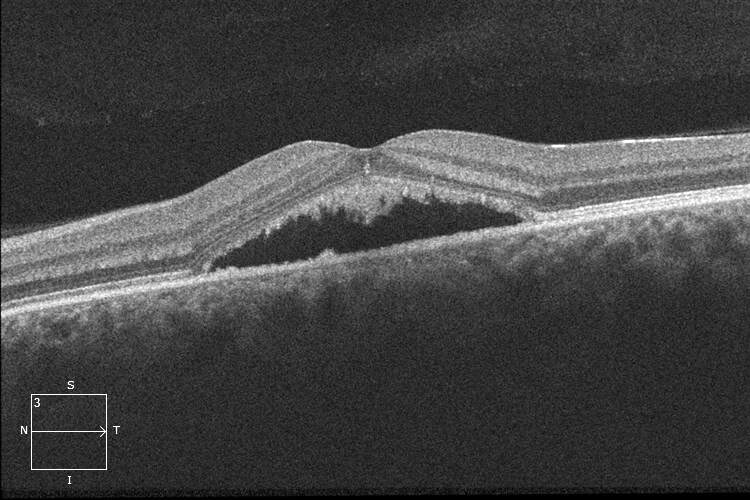 Figure 2. Left optical coherence tomography (horizontal raster scan) through the macula demonstrates subretinal fluid. Material has accumulated on the undersurface of the detached retina. Hyperreflective dots can be seen both within this and within the retina itself.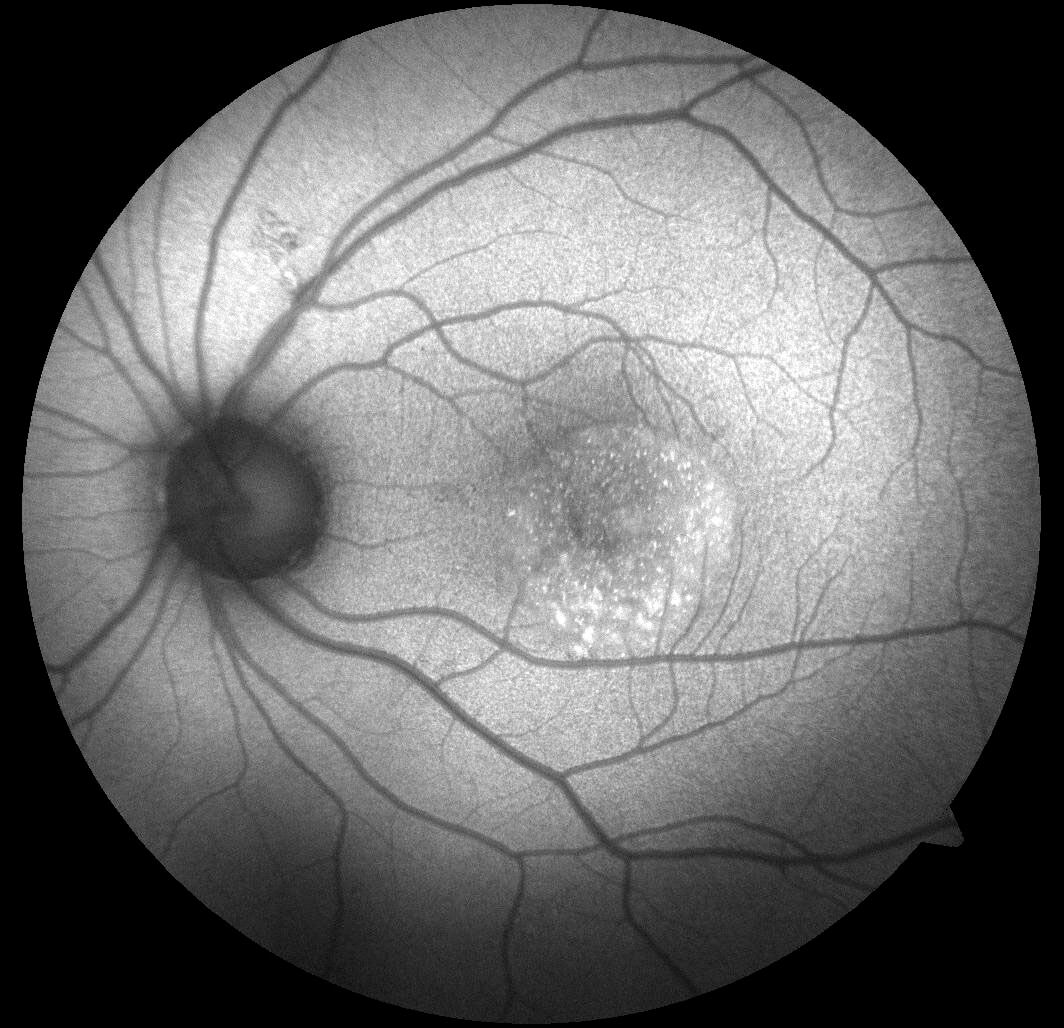 Figure 3. Left fundus autofluorescence image demonstrating multiple hyperautofluorescent dots within the serous retinal detachment.
DIAGNOSIS
Left central serous chorioretinopathy (CSC).
The patient was advised of the association between corticosteroids and CSC. As his hayfever symptoms were not especially severe he was happy to stop using the Rhinocort® steroid nasal spray. Review was scheduled for 3 months. At this time there was no improvement in the degree of subretinal fluid as measured by OCT and the patient was still very troubled by his symptoms. Vision remained 6/15 (pinhole 6/12+).

As the CSC was not improving and the patient remained symptomatic, combined fluorescein and indocyanine green (ICG) angiography was performed in an effort to plan treatment. The fluorescein angiogram demonstrated focal leakage just inferonasal to the fovea (Figure 4A). The ICG angiogram demonstrated midphase choroidal hyperpermeability and hypercyanescence within the area of the serous detachment (Figure 4B). As there was an area of focal leakage, after informed consent light focal argon laser was used to ablate this area (Figure 5A). Two months following laser treatment the subretinal fluid had resolved (Figure 5B, 6) and visual acuity improved to 6/6-.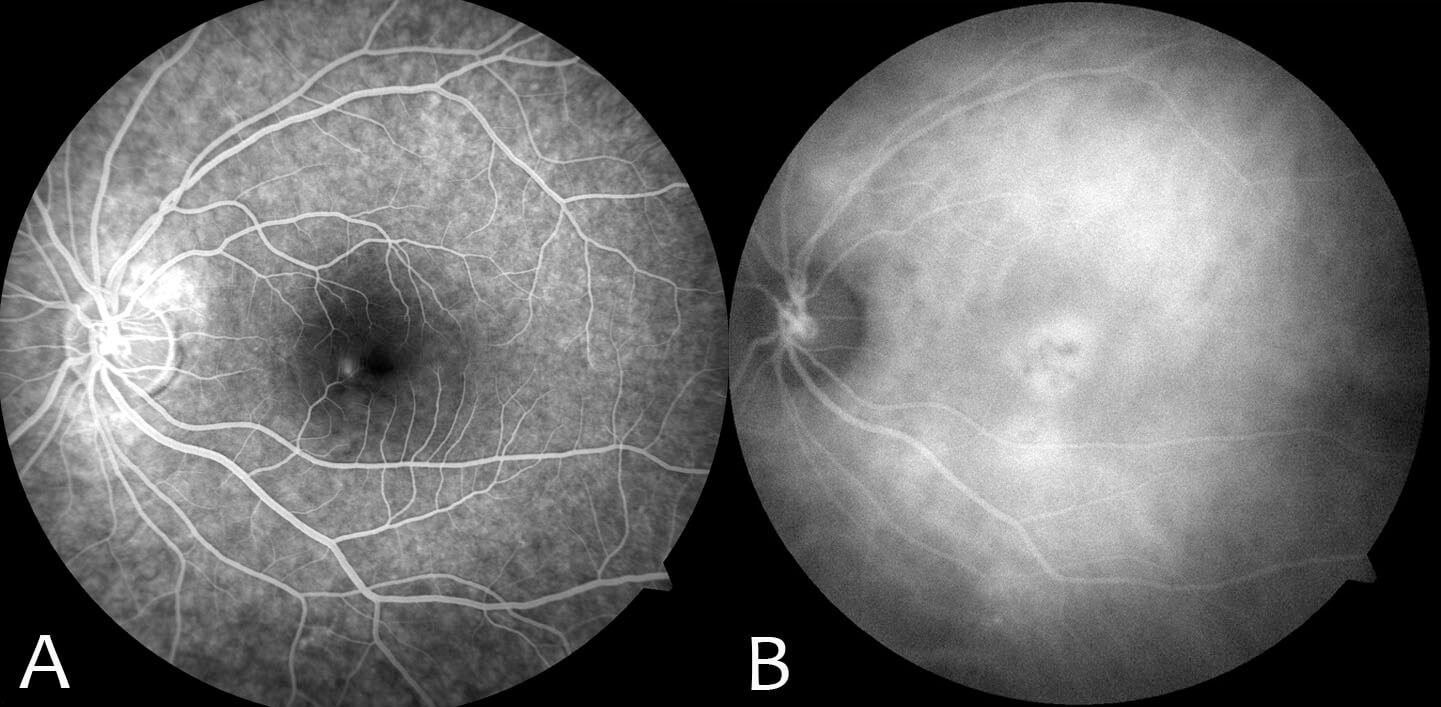 Figure 4. A) Fundus fluorescein angiography demonstrating focal leakage just inferonasal to the fovea. B) Midphase indocyanine green angiography (8 minutes) demonstrates choroidal hyperpermeability and hypercyanescence within the area of the serous detachment.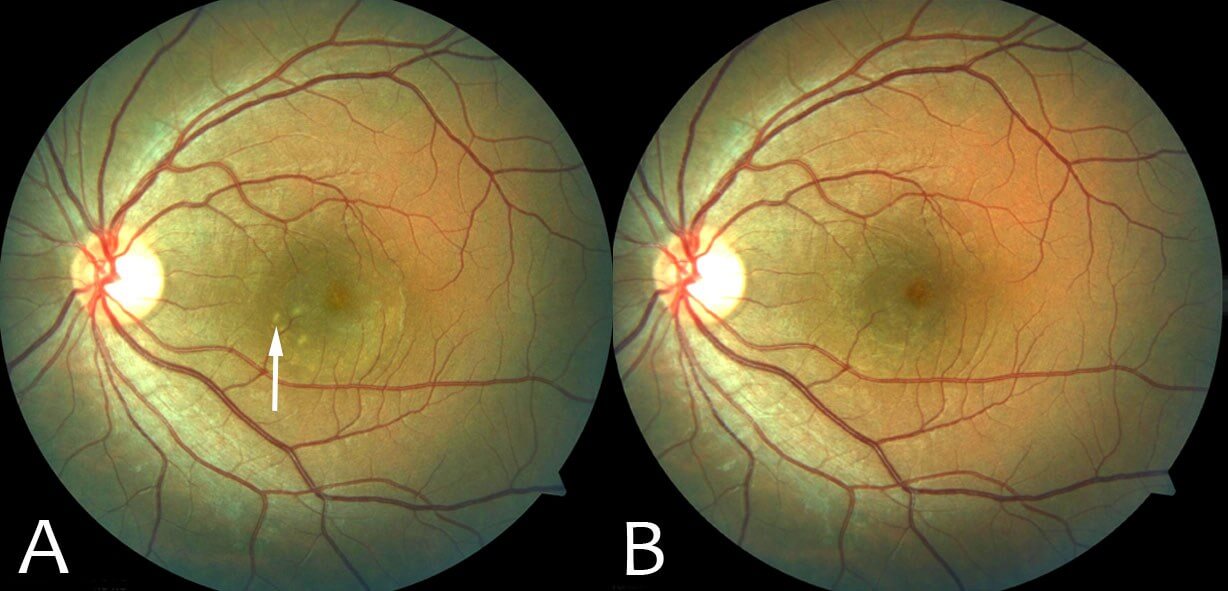 Figure 5. A) Colour fundus image taken immediately post argon laser treatment for CSC demonstrating light laser spots (one highlighted by an arrow) within the area of leakage identified on the fluorescein angiogram. B) Two-months following laser treatment the subretinal fluid has resolved.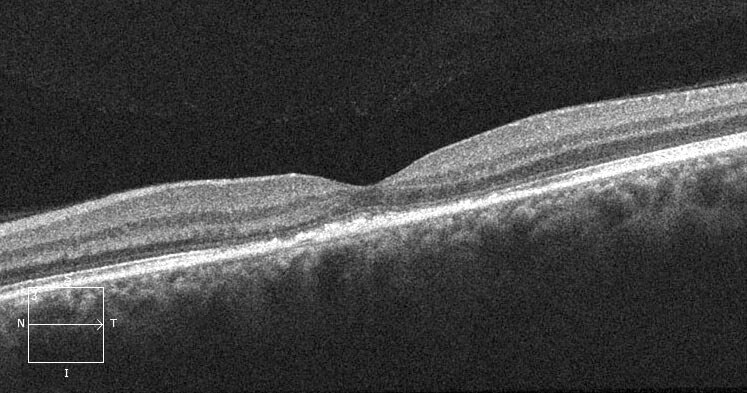 Figure 6. Two-months following laser treatment the subretinal fluid has resolved leaving some residual retinal pigment epithelial changes.
Central serous chorioretinopathy is a disease of the choroid and retinal pigment epithelium (RPE).(1) Choroidal dilation and hyperpermeability, which can be increased by risk factors such as corticosteroids, results in increased choroidal hydrostatic pressure. This increased pressure overcomes the barrier function of RPE and results in fluid accumulation underneath the retina and a serous (exudative) sensory detachment.

Patients with CSC are typically men aged 20-50 years. Presenting symptoms include central disturbance of vision, micropsia, metamorphopsia and altered colour perception.(1) A hypermetropic shift often occurs due to anterior displacement of the photoreceptors by the subretinal fluid. The hallmark finding in CSC is of a serous retinal detachment, often at the macula.1 Yellow precipitates often seen on the under surface of the retina are felt to represent shed outer photoreceptor segments.(2,3)

Optical coherence tomography (OCT) is a valuable tool in the diagnosis and monitoring of CSC. OCT findings include:

Subretinal fluid.

Serous pigment epithelial detachment (PED) (Figure 7A).

Subretinal hyperreflective material (shed photoreceptor outer segments, engorged macrophages, and other inflammatory debris such as fibrin).(2,3)

Hyperreflective intra and subretinal deposits.(2,3)

Increased subfoveal choroidal thickness (this reflects choroidal hyperpermeability)5 (Figure 7B).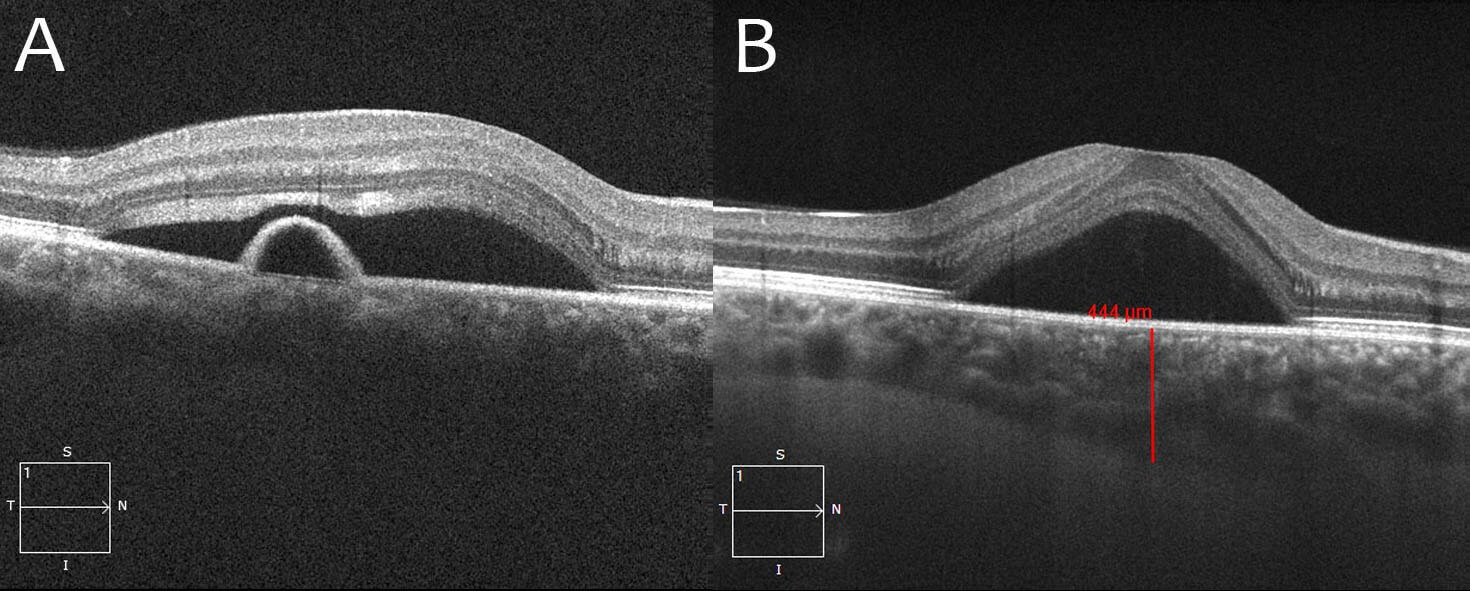 Figure 7. A) Serous PED and sensory detachment in a patient with CSC. B) Increased choroidal thickness (444μm) in a patient with CSC. As a rule of thumb the normal choroid should be the same thickness as the retina (i.e. be less than 300μm).
Red flags in the diagnosis of CSC include:

Age over 50 years (need to consider neovascular AMD).

Female patient unless pregnant (CSC is 6-8 times more common in men).(4)

Presence of macular haemorrhage (consider CNV or polyps). However, in some cases CSC may be complicated by CNV.(6)

Pathological myopia. While CSC can occur in myopia(7) it is more common in hypermetropes. In high myopes, myopic CNV or a dome shape macula configuration need to be considered.
Most cases of CSC will resolve spontaneously within 3-4 months.
(8)
There is however a high recurrence rate with almost 50% of patients having a further episode within the next year.
(9)
The most important and easily reversible risk factor for the condition is corticosteroid usage (oral, topical, inhaled, nasal spray, intra-articular). Eyecare professionals should liase with the patient's physician to stop or minimise the dose of the medication where it is safe to do so. Other described risk factors include type A personality, phosphodiesterase inhibitors (e.g. Cialis and Viagra), obstructive sleep apnea, hypertension and pregnancy.
(1)
Since most cases resolve spontaneously within 4 months, modification of reversible risk factors and observation is the usual management.
(1)
Persistent submacular fluid can cause irreversible macular damage.
(1)
Accordingly most retinal specialists intervene if there has been no improvement following 3-6 months of observation. Fluorescein and indocyanine green (ICG) angiography is used to guide treatment. If angiography demonstrates focal leakage away from the foveal centre, argon laser can be used to promote subretinal fluid reabsorption. Although the precise mechanism is not known, it may seal focal RPE defects, promote the recruitment of nearby RPE cells or improve the pumping function of RPE cells.
(1)
If there is no focal leakage, or it is too close to safely treat with argon laser, reduced fluence photodynamic therapy (PDT) has been reported to have a close to 95% success in resolving subretinal fluid.
(10,11)
It has a good safety profile but risks include choroidal ischaemia and RPE damage, both of which can result in irreversible vision loss.
(1)
An intravenous medication (Visudyne® (verteporfin)) is injected intravenously before being activated by the PDT laser. In Australia, verteporfin is only listed for treatment of neovascular AMD and an application for compassionate usage has to be made to the Therapeutic Goods Administration (TGA) and manufacturer for its supply in patients with CSC.
TAKE HOME POINTS
Patients are typically young to middle-aged men presenting with central disturbance of vision including micropsia, and distortion.


The hallmark finding in CSC is a sensory detachment of the retina.


Corticosteroid use is the most important modifiable risk factor. Steroid creams and inhalers are often forgotten.


OCT is the most useful investigation. This demonstrates subretinal fluid, and often a serous PED and/or hyperreflective sub and intraretinal deposits.


Angiography is reserved for cases where there is uncertainty regarding the diagnosis or to plan treatment.


Most cases resolve spontaneously within a few months, although there is a high recurrence rate within the first year.


In cases persisting beyond 3-4 months treatment may be considered with argon laser or photodynamic therapy.
REFERENCES

Nicholson B, Noble J, Forooghian F, Meyerle C. Central Serous Chorioretinopathy. Update on pathophysiology and treatment. Survey of Ophthalmology 2013; 58: 103-126.

Maruko I, Iida T, Ojima A et al. Subretinal dot-like precipitates and yellow material in central serous chorioretinopathy. Retina 2011;31: 759-65

Spaide RF, Klancnik JM Jr. Fundus autofluorescence and central serous chorioretinopathy. Ophthalmology. 2005; 112: 825-33

Kitzmann AS, Pulido JS, Diehl NN, Hodge DO, Burke JP. The incidence of central serous chorioretinopathy in Olmsted County, Minnesota, 1980–2002. Ophthalmology 2008; 115: 169-73

Spaide RF, Koizumi H, Pozzoni MC. Enhanced depth imaging spectral-domain optical coherence tomography.Am J Ophthalmol. 2008;146:496—500

Fung AT, Yannuzzi L, Freund KB. Type 1 (Sub-Retinal Pigment Epithelial) Neovascularization in Central Serous Chorioretinopathy Masquerading as Neovascular Age-Related Macular Degeneration. Retina 2012 Oct;32(9):1829-37.

Yzer S, Fung AT, Switzer D, Freund KB, Barbazetto I, Yannuzzi L. Central Serous Chorioretinopathy in Myopic Patients. Arch Ophthalmol 2012;130(10):1339-1340.

Klein ML, Van Buskirk EM, Friedman E, et al. Experience with nontreatment of central serous choroidopathy. Arch Ophthalmol 1974; 91: 247-50

Loo RH, Scott IU, Flynn HW Jr, et al. Factors associated with reduced visual acuity during long-term follow-up of patients with idiopathic central serous chorioretinopathy. Retina 2002; 22: 19-24

Chan WM, Lai TY, Lai RY, et al. Half-dose verteporfin photodynamic therapy for acute central serous chorioretinopathy: one-year results of a randomized controlled trial. Ophthalmology 2008; 115: 1756-65

Butler A, Fung AT, Merkur A, Albiani D, Farooghian F. Very minimal fluence photodynamic therapy for chronic central serous chorioretinopathy. Can J Ophthalmol 2012 Feb 47(1):42-4.
Back