Figure 1. Colour photographs demonstrate alteration of the foveal reflex with loss of transparency temporal to the maculae, more evident in the right eye.
A 51-year-old male was referred with distortion and reduced vision in his right eye.
A 51-year-old male was referred from his optometrist with distortion and reduced vision in his right eye over 4 weeks. Best corrected visual acuities were 6/9 in the right eye (OD) and 6/6 in the left eye (OS). Intraocular pressures were 15mmHg in both eyes. Examination of the anterior segment was normal. Examination of the right macula revealed an altered foveal reflex with slight loss of retinal transparency temporal to the fovea (Figure 1). Similar but more subtle changes were evident in the left eye.
The differential diagnosis of an altered foveal and parafoveal reflex in a middle aged male is extensive, but includes:

Central serous chorioretinopathy

Macular oedema of any cause

Adult foveomacular vitelliform dystrophy

Macular Telangiectasia

Vitreomacular interface disorder (vitreomacular traction, macular hole)
Additional history, examination and investigations
The patient was otherwise well and not on any regular medications. There was no previous history of ocular disease or visual symptoms. Optical coherence tomography (OCT) performed at presentation shows cystic changes more prominent in the right macula (Figure 2). Fluorescein angiography shows telangiectatic changes temporal to the fovea with leakage (Figure 3). Similar changes were apparent in the left eye.

Figure 2. Optical coherence tomography demonstrates cystic degeneration at the temporal margin of both foveae. In the right eye this has led to a partial thickness macular hole.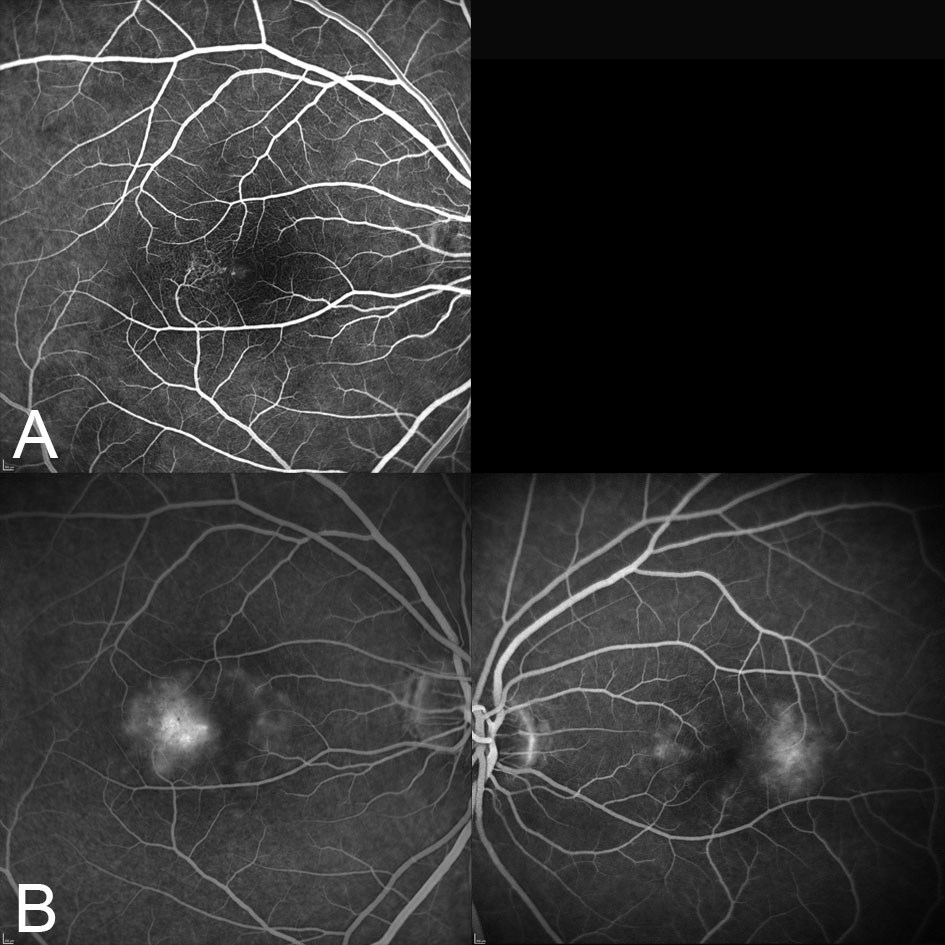 Figure 3. Fluorescein angiography shows hyperfluorescent leakage temporal to both foveae from the early (A) to late (B) phases.
DIAGNOSIS
Type 2 Macular Telangiectasia.
The patient is currently being observed on a regular basis. His vision remains unchanged.
Macular telangiectasia is an idiopathic, poorly understood disease characterised by abnormalities of the capillaries in the foveal or perifoveal region.(1) However the primary pathology may in fact be neural, with Müller cells known to be affected. Visual loss can occur due to cystic degenerative changes in the macula or secondary choroidal neovascularisation (CNV). It typically presents in middle age with an equal incidence in males and females.(1) Diabetes and hypertension are highly prevalent in patients with the disease.

Two main types exist(2):

Type 1: Congenital and unilateral. Uncommon and thought to be a variant of Coat's disease

Type 2: Acquired and bilateral. The most common variant with a reported prevalence of 0.1%

Presentation is typically with scotoma or metamorphopsia. In Macular Telangiectasia type 22, the earliest finding is that of loss of the foveal reflex and reduced transparency of the retina particularly just temporal to the fovea. Crystalline deposits in the inner limiting membrane, pigment hyperplasia and telangiectactic capillaries may be noted as the disease progresses.

The advent and widespread use of OCT has permitted a more thorough anatomical description of Macular Telangiectasia type 2, demonstrating hyporeflective cavities which progress to disruption of the ellipsoid zone and photoreceptor atrophy.(3) Pseudolamellar and full thickness macular hole may also develop due to atrophic changes. Fundus autofluorescence can also be useful for early diagnosis, as hyperautofluorescence is typically seen temporal to the fovea. Fluorescein angiography is important for diagnosis, as it clearly delineates temporal telangiectacic vessels with leakage and venules diving at right angles into deeper retinal layers.(1)

There is no proven treatment for Macular Telangiectasia type 2 in the absence of CNV.(1) If the disease is complicated by CNV, intra-vitreal anti-VEGF therapy can be effective. Whilst Macular Telangiectasia type 2 can lead to significant visual loss in some cases, overall the prognosis is favourable, with average visual acuities of 6/12 being reported.
TAKE HOME POINTS
Macular telangiectasia is an uncommon but important differential in middle aged patients with macular symptoms. Key findings include that of loss of the foveal reflex, reduced transparency of the temporal macula, crystalline retinal deposits, intraretinal pigment migration and telangiectactic capillaries.


Cystic degeneration in the temporal macula is seen on optical coherence tomography.


Telangiectatic vessels and late leakage temporal to the macula is seen on fluorescein angiography.


There is no proven treatment in the absence of secondary choroidal neovascularization.
REFERENCES

Yannuzzi LA, Bardal AM, Freund KB, Chen KJ, Eandi CM, Blodi B. Idiopathic macular telangiectasia. Arch Ophthalmol 2006;124:450-60.

Gass JD, Blodi BA. Idiopathic juxtafoveolar retinal telangiectasis. Update of classification and follow-up study. Ophthalmology 1993;100:1536-46.

Paunescu LA, Ko TH, Duker JS, et al. Idiopathic juxtafoveal retinal telangiectasis: new findings by ultrahigh-resolution optical coherence tomography. Ophthalmology 2006;113:48-57.
Back