Figure 1. Colour fundus photograph of the right eye shows pallor superior to the fovea extending temporally from the optic disc.
A 67-year-old male was referred with a 1 day history of painless inferior scotoma in his right vision.
A 67-year-old man, presented with a 1 day history of a painless, small, inferior scotoma in his right vision. He had no other associated symptoms such as headache, pain, flashes or floaters, jaw claudication, limb weakness, speech disturbance or paraesthesiae. Past medical history included ischaemic heart disease, a triple coronary bypass operation in 2004, gout, hypertension and hypercholesterolaemia. His medications consisted of aspirin, metoprolol and atorvastatin. He quit smoking 10 years ago but drank 4-5 alcoholic drinks per day.

Visual acuities were 6/12-2 pinhole 6/7.5-2 in the right eye, and 6/6-2 in the left. Intraocular pressures were normal at 14mmHg bilaterally. Anterior segment exam was normal bilaterally.

Colour fundus photographs revealed an area of pale, oedematous retina in the right superior macula (Figure 1). The right optic disc and left fundus were normal.
The differential diagnosis of retinal pallor includes:

Branch retinal artery occlusion

Cilioretinal artery occlusion

Commotio retinae

Retinitis
Additional history, examination and investigations
His pulse was regular at 72 beats per minute, and there were no audible carotid bruits. His temporal arteries were non-tender. Optical coherence tomography showed a dry fovea, but there was inner retinal thickening due to oedema corresponding to the area of pallor on clinical examination (Figure 2). A fluorescein angiogram revealed a right cilioretinal artery occlusion, with some later retrograde filling of the vessel (Figure 3). The site of the embolus could also be seen where the cilioretinal artery crosses the optic disc.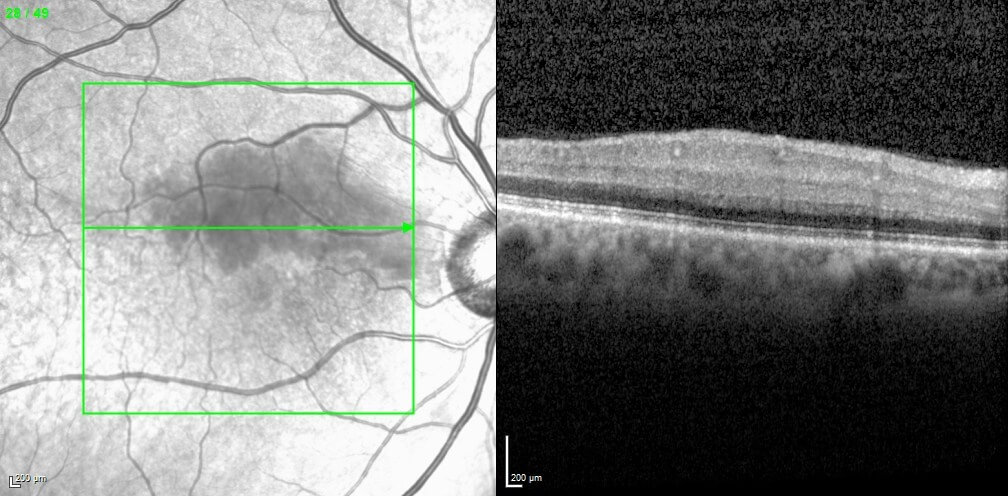 Figure 2. Optical coherence tomography of the right macula shows inner retinal thickening due to oedema.

Figure 3. Fluorescein angiography (early to late, top to bottom) shows occlusion of the right cilioretinal artery, which fills with dye from retrograde flow in the late phase.
DIAGNOSIS
Right cilioretinal artery occlusion.
As his right vision was only moderately impaired and his symptoms had been present for 24 hours, no emergency manoeuvres were performed to dislodge the clot.

The patient was sent urgently to his GP for a stroke work-up to prevent recurrence. Blood pressure and blood tests including FBC, UCE, LFT, BSL, ESR and CRP were all normal. His cholesterol medication was increased slightly to achieve better control of elevated serum lipids. Electrocardiogram showed a normal cardiac rhythm with no evidence of an arrhythmia. Caroitid Doppler ultrasound revealed plaques causing 50-69% stenosis within both internal carotid arteries, more irregular on the right. Cardiac echocardiography did not reveal any cardiac thrombus, or valvular disease.

Due to the fact that he had an arterial thrombo-embolic event, clopidogrel was added to his aspirin by his physician, to help reduce the risk of subsequent stroke. As his carotid artery stenosis was not greater than 69%, his vascular surgeon did not offer carotid endarterectomy surgery.(1)

Two weeks later the patient reported a slight reduction in his scotoma. His right visual acuity had improved to 6/7.5 unaided, (pinole 6/6-1). Fundoscopy showed contraction and confluence of the retinal pallor (Figure 4). There was a reduction in retinal oedema on OCT scans compared to presentation (Figure 5).

An Estermann visual field test showed that he had full binocular visual field, and was legal to keep driving. Over the next 12 months the small scotoma persisted, but he did not suffer any further thrombo-embolic events.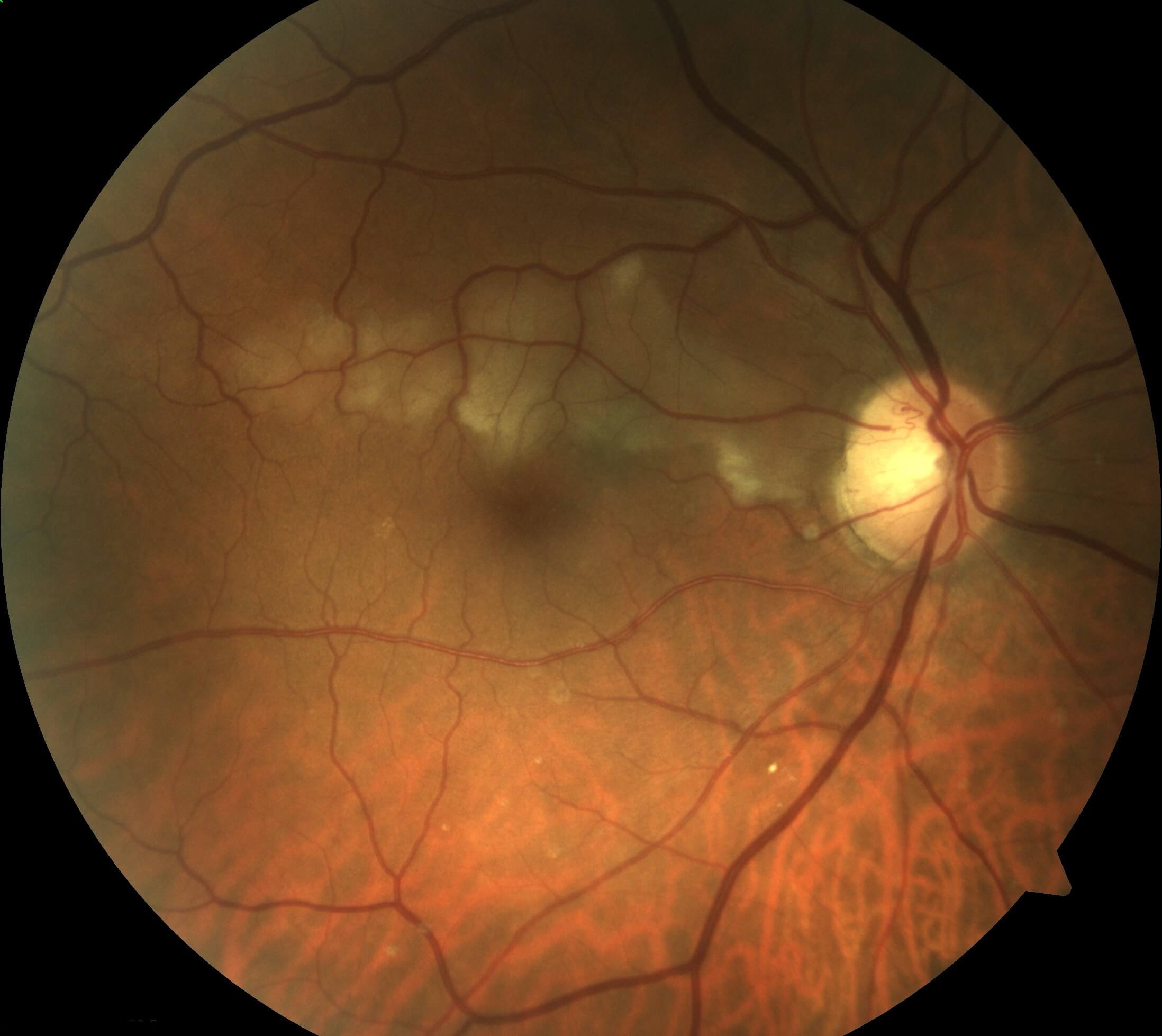 Figure 4. Two weeks after the initial occlusion there is confluence and contraction of the area of retinal pallor.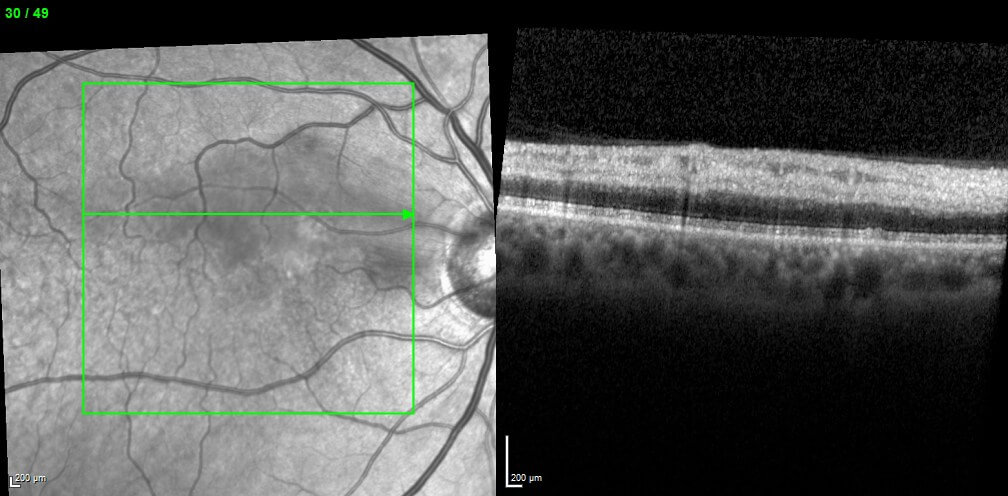 Figure 5. Two weeks after the initial occlusion there is less retinal oedema on optical coherence imaging.
Cilioretinal artery occlusion (CLRAO) accounts for 5% of retinal arterial obstructions. Cilioretinal arteries originate from the short posterior ciliary arteries, and enter the retina from the temporal optic disc. They do not originate from the central retinal artery, and can be seen on clinical exam in 20% of eyes.(2) Clinically, CLRAO present as a superficial whitening along the course of the affected artery. There are 3 distinct entities: 1) Isolated CLRAO 2) Arteritic CLRAO with AION in giant cell arteritis 3) CLRAO associated with CRVO. This case was an isolated CLRAO. Isolated CLRAO typically has a good prognosis, with 90% achieving 6/12 or better vision, and 60% returning to 6/6. Given the reasonable visual prognosis, it is difficult to show that any emergency treatment modalities are of benefit.(3)

The majority of central retinal artery occlusions, (CRAO), branch retinal artery occlusions (BRAO) and isolated CLRAOs are due to either emboli or atheroma and occur in patients with generalised atherosclerosis and hypertension. Our patient was at high risk of retinal arteriolar occlusion due to his history of vascular disease. The source of embolus is likely to be the atheromatous plaque in his internal carotid artery. When the source of the embolism is found, further investigations looking for a prothrombotic or procoagulant cause are unlikely to have additional benefit.(4) Another common source of thromboembolism in older patients is atrial fibrillation. Giant cell arteritis must always be considered in patients over the age of 50 years, as 20% of GCA patients who lose vision do so from CRAO.

The presence of a cilioretinal artery improves the prognosis following CRAO, as bloodflow can bypass the obstruction. In cases where there is foveal sparing due to a patent cilioretinal artery in CRAO, there is an 83% chance of the final visual acuity ranging from 6/6 to 6/15. Without a patent cilioretinal artery, final visual acuity in CRAO is normally very poor at count fingers.(5)
TAKE HOME POINTS
Cilioretinal arteries arise from the posterior ciliary arteries, and not the central retinal artery.


Cilioretinal artery occlusions (CLRAO) result in an area of superficial retinal whitening temporal to the optic nerve, with or without an embolus being seen.


Giant cell arteritis should always be considered, particularly when CLRAO is combined with arteritic AION.


Urgent stroke work-up and physician review should be arranged for any retinal arteriolar occlusion.


Isolated CLRAO is usually associated with a good prognosis.
REFERENCES

Barnet et al. Beneficial effect of Carotid Endarterectomy in symptomatic patients with high-grade carotid stenosis. New England Journal of Medicine 1991 ; 325 (7) : 445-453.

Ryan SJ, Scachat AP, Sadda SR. Fifth Edition. Volume 2 ; 1020-21.

Hayreh SS, Podhajsky PA, Zimmerman MB. Branch Retinal Artery Occlusion: natural history of visual outcome. Ophthalmology 2009; 116(6): 1188-1194.

Graham EM. The investigation of patients with retinal vascular occlusion. Eye 1990; 4:464-8.

Brown GC, Shields JA. Cilioretinal arteries and retinal arterial occlusion. Arch Ophthal 1979;97(1);84-92.
Back