Figure 1. Vitreous haemorrhage was noted inferiorly in this wide view colour photo of the left eye. There is an area suspicious of neovascularisation supero-temporally, as well as evidence of sclerosed retinal vessels in the periphery.
A 36-year-old Caucasian male was referred with headache, orbital pain, vertigo and blurred vision.
A 44-year-old man presented to his optometrist complaining of 3 days of seeing black spots in his left vision, which is not improving with time. He has never experienced anything similar in the past and denied any previous ocular problems. He has diet controlled Diabetes and does not take any regular medications normally. He denied past or recent trauma, intervention or ocular surgery. He does not wear glasses normally. He denied a family history of eye problems, and feels that his central vision is still good despite the 'black spots'. He denied smoking.

Visual acuity was 6/5 unaided in both eyes. Intraocular pressures and pupil reactions were normal. Dilated exams revealed no evidence of cataracts, and no inflammatory cells in the anterior chamber in either eye. There was no evidence of iris nodules or keratic precipitates (KPs). There was evidence of vitreous haemorrhage in his left eye whereas the right vitreous was clear. An area suspicious of neovascularisation was noted supero-temporally on his left retina (Figure 1) and there was also evidence of sclerosed blood vessels nasally and supero- temporally. His right fundus appeared normal (Figure 2). There was no evidence of cystoid macular oedema or macular changes in either eye.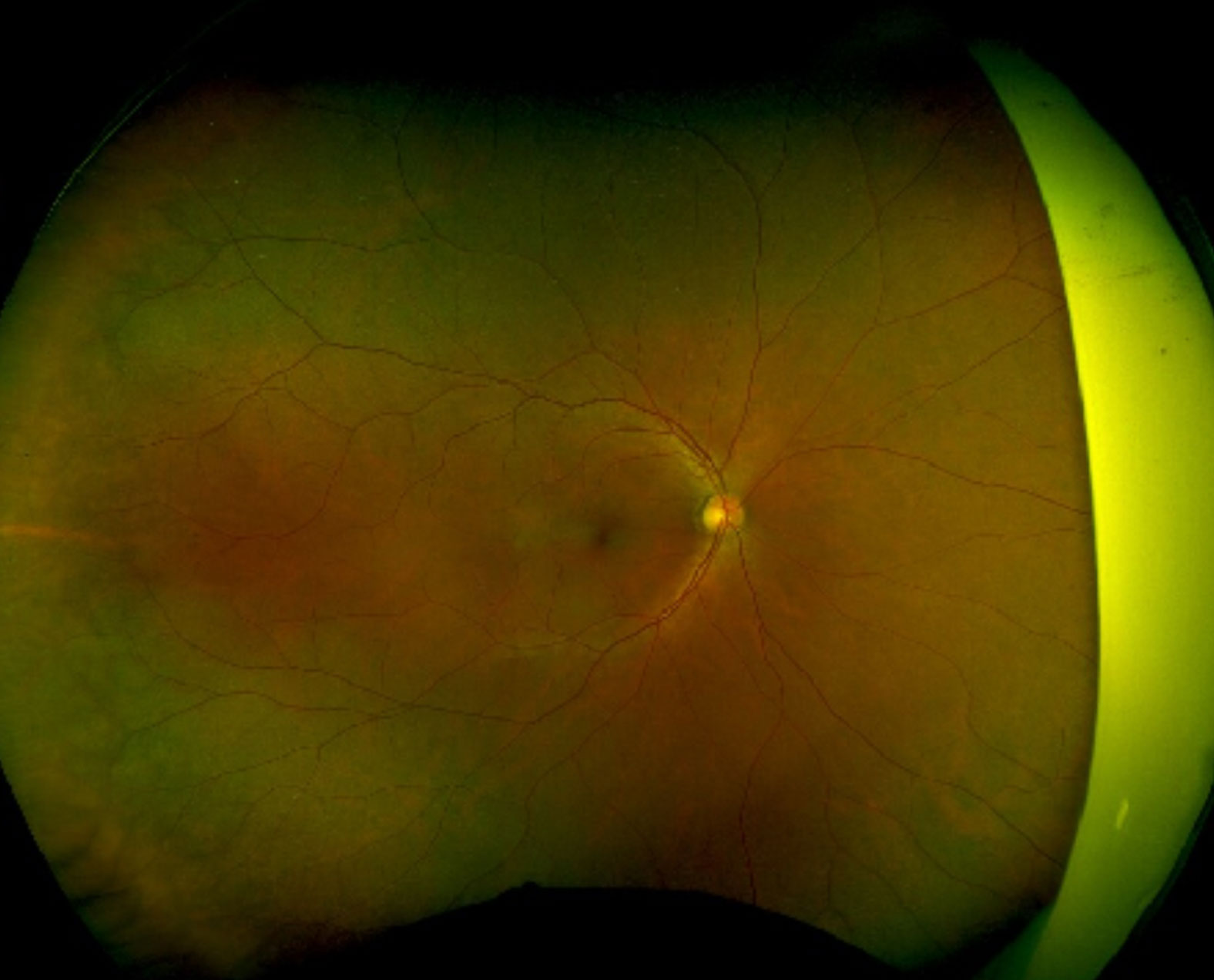 Figure 2. Right colour fundus photo showing no acute changes.
The differential diagnosis includes:

Occlusive vasculitis with neovascularisation Proliferative diabetic retinopathy

Ocular Ischaemia

Familial Exudative Vitreoretinopathy (FEVR)
Additional history, examination and investigations
Upon further questioning, the patient mentioned that he travels to Bangladesh at least once a year and has had a dry cough for many months. But he denied haemoptysis or fevers. He mentioned that his family member may have had treatment for Tuberculosis (TB) in the past but denied having been diagnosed with TB himself.

Fundus Fluorescein Angiography (FFA) was performed on this patient and it showed large areas of peripheral ischaemia in his left eye and confirmed the area of neovascularisation supero-temporally (Figure 3). There were also minor microaneurysmal changes in the far periphery in his right eye (Figure 4). Fundus autofluorescence FAF (Figures 5 and 6) was also performed for this patient and did not show any other changes apart than those confirmed on the FFA.

Blood tests were performed on this patient including TB Quantiferon, ACE, Syphilis serology, other inflammatory markers (CRP and ESR), vasculitis screen, coagulation profile, full blood count, liver and renal function tests, and a Hba1c. Carotid dopplers and MRI and MR-angiogram of the brain and carotids were performed to exclude causes of ischaemia. Everything returned within normal except for a positive TB Quantiferon. HbA1c was 5.9%. A chest x ray was also organised for this patient but did not show any pulmonary lesions. However, the patient was referred to the local Tuberculosis clinic for follow up and further assessment.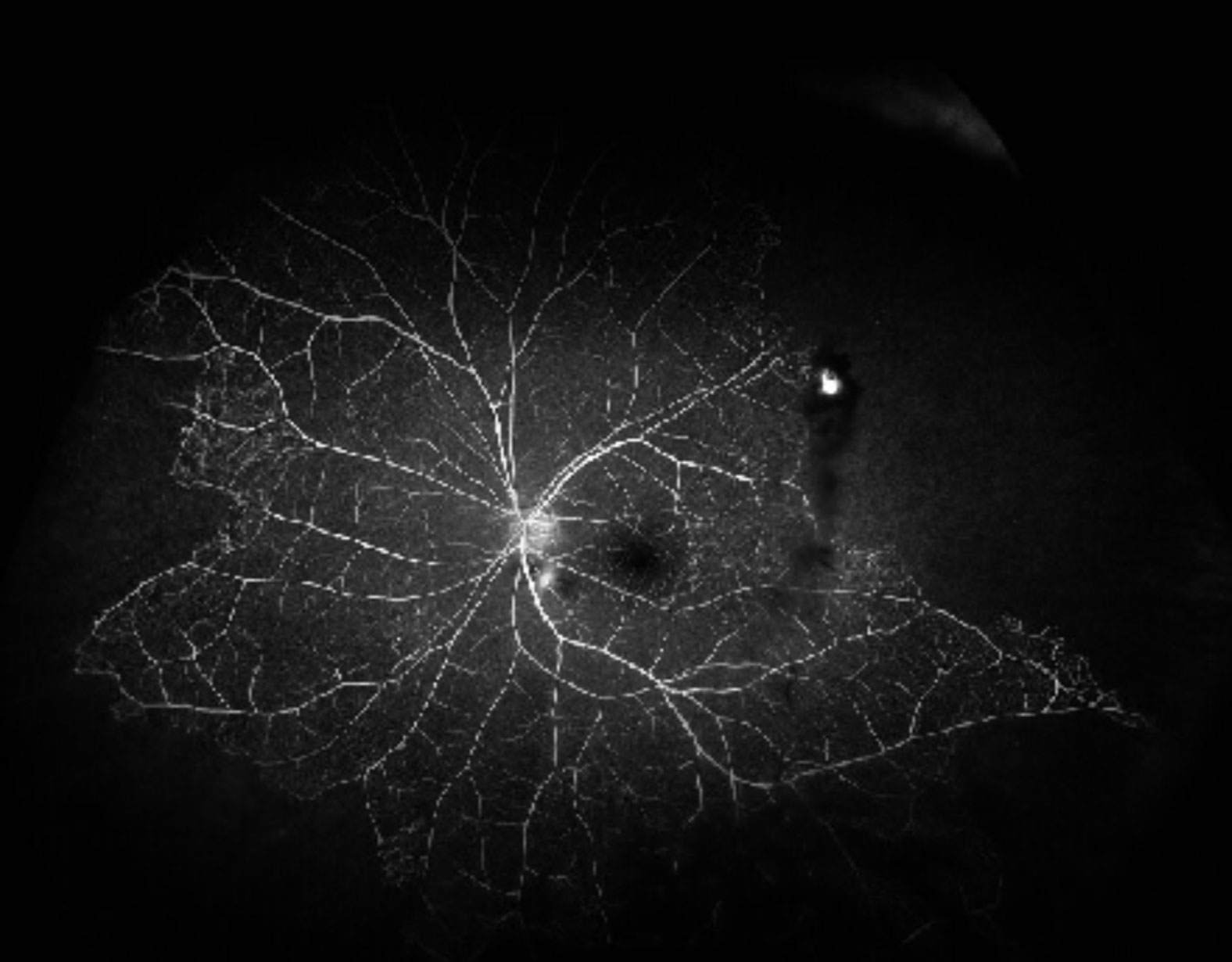 Figure 3. Fundus autofluorescence shows hyperfluorescsent areas corresponding to the subretinal fluid.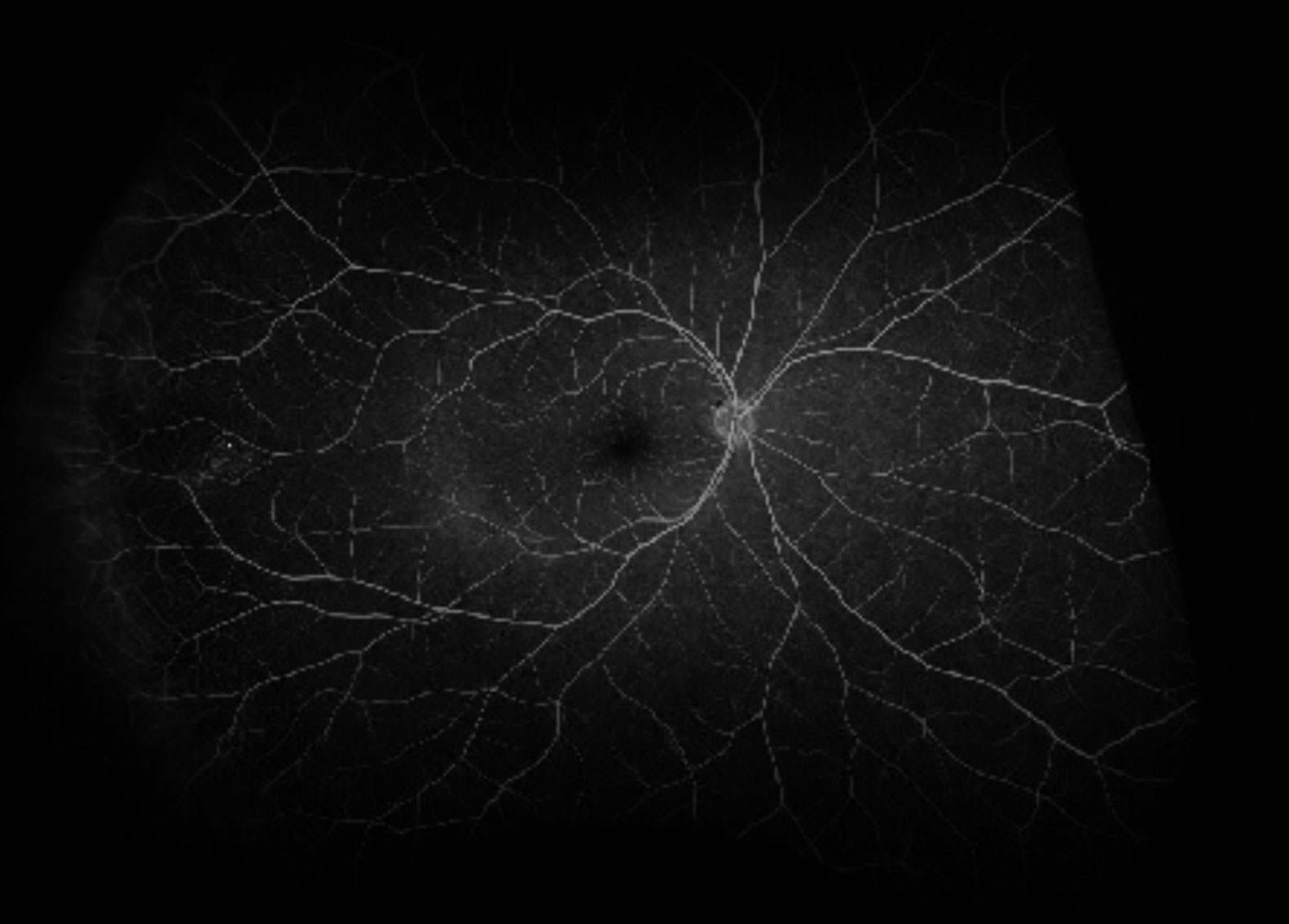 Figure 4. Right FFA showing some peripheral microaneurysmal changes but no obvious areas of ischaemia or vasculitis. Normal disc and macula in appearance.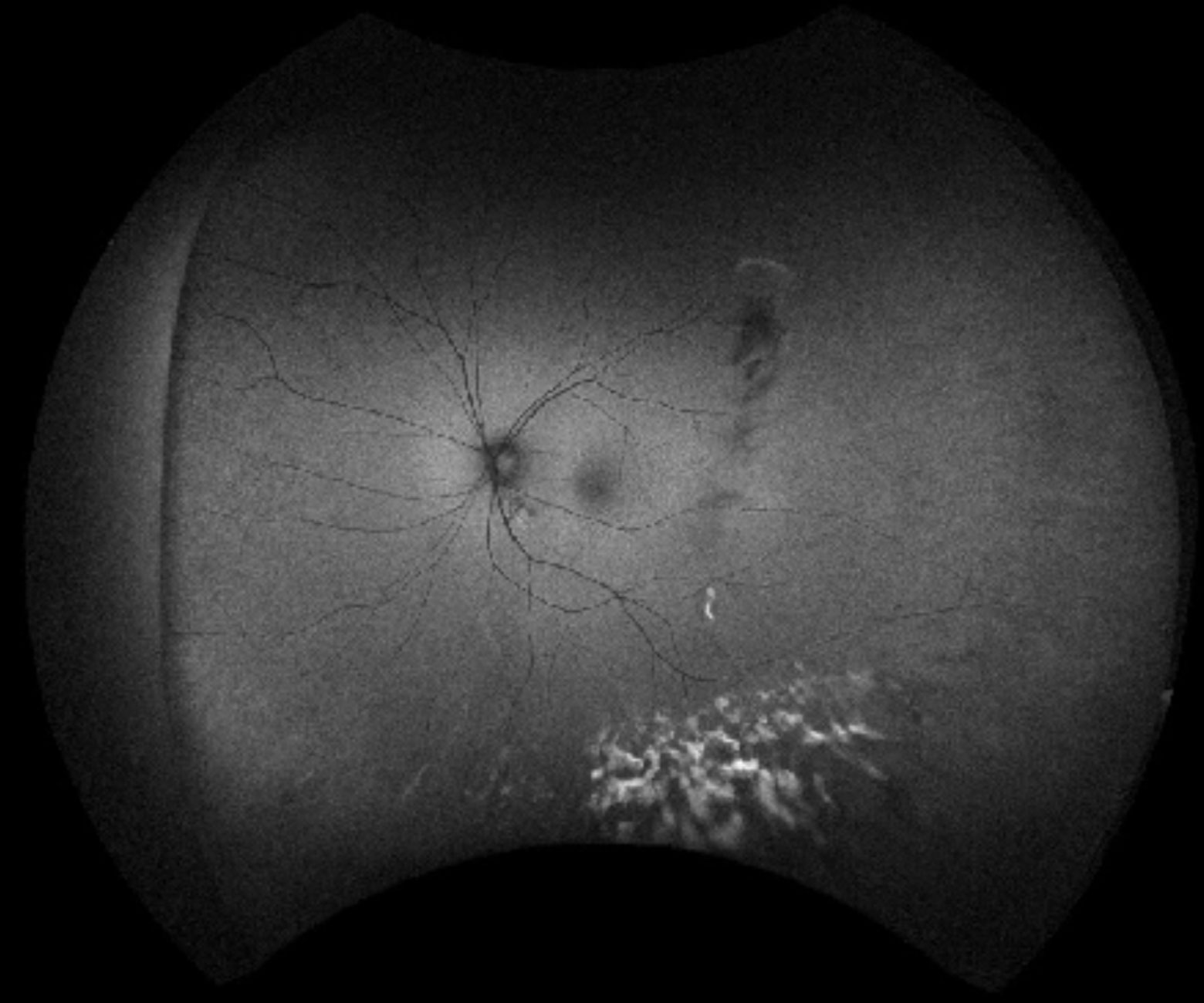 Figure 5. Fundus autofluorescence (FAF) confirming the changes in the left eye.
DIAGNOSIS
Presumed Tuberculosis related occlusive vasculitis with neovascularisation
Given evidence of occlusive vasculitis likely related to TB, we discussed the option of immunosuppression and full course anti-TB treatment with the patient. The Tuberculosis team had also examined the patient and found no active Tuberculosis elsewhere. We performed pan retinal photocoagulation (PRP) using Argon laser to the areas of ischaemia as guided by the FFA images. The patient agreed to go ahead with a course of anti-TB treatment for 6 months. The patient was followed up regularly after the PRP and monitored until the neovascularisation regressed and vitreous haemorrhage settled. He is still under regular review with us and the TB clinic. The patient understands that he may still require immunosuppression and further treatment if he develops signs of deterioration or ocular TB re-activation.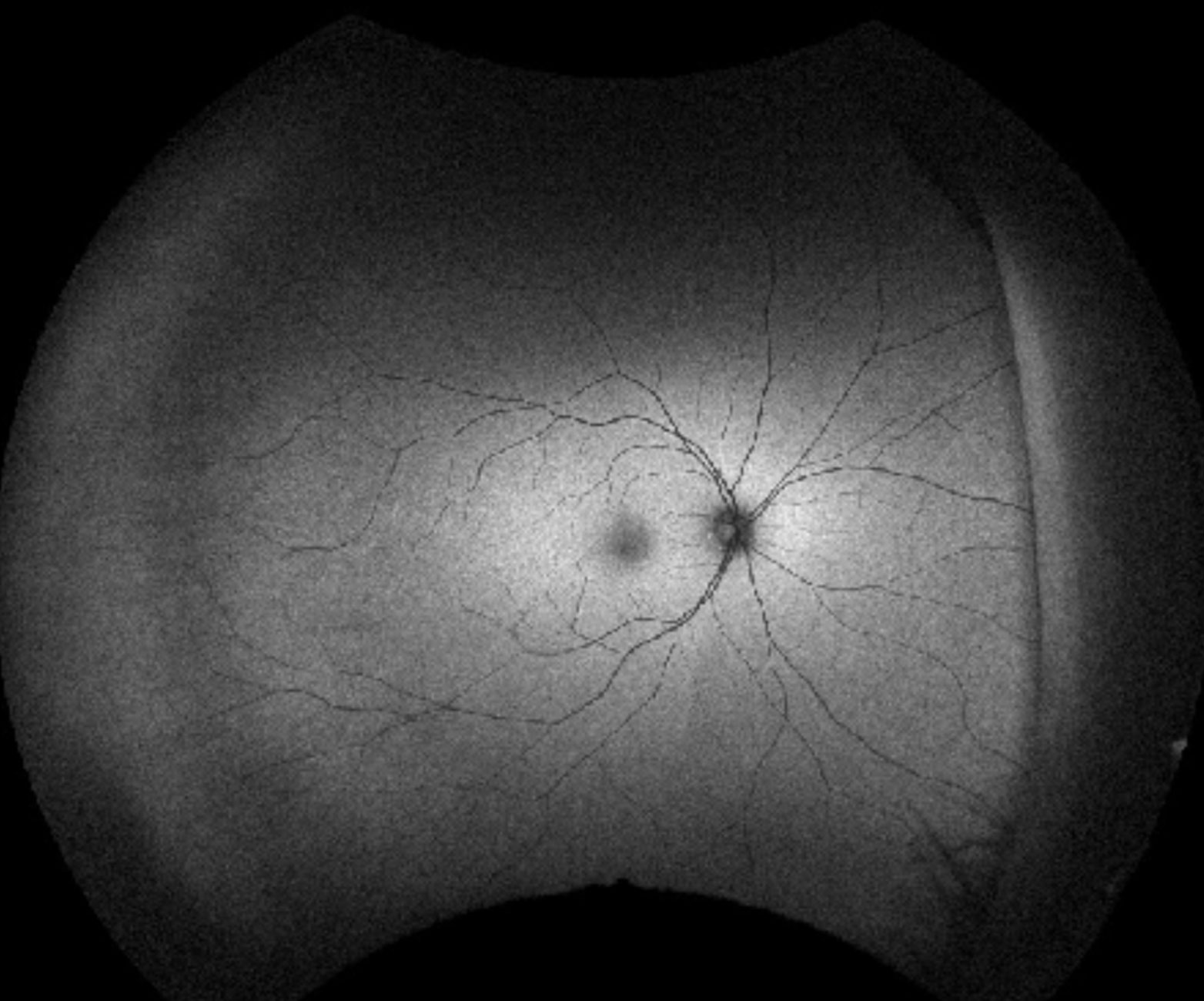 Figure 6. Normal FAF right eye.
Tuberculosis is an infection caused by the organism Mycobacterium tuberculosis. It is an airborne communicable disease that commonly involves the lungs and is transmitted via droplets in the air. TB can occur in the eyes in the form of ocular TB, which can manifest as uveitis, granulomas (iris or choroidal), granulomatous KPs, scleritis, retinal vasculitis, and disc swelling. The World Health Organisation (WHO) estimated around 9 million new cases of TB diagnosed every year, with more than a quarter of the world's population latently infected with TB.(1) Prevalence of presumed ocular TB is estimated to be 0.1-10.0% in India, 16.0% in Saudi Arabia, 7.0% in Japan, 6.8% in Philippines, 6.0% in Italy, 4.0% in China, 2.2% in Thailand, and around 1.0% in the United States. Ocular TB has been reported to be present in 1.2 to 23.2% of patients with systemic TB in literature.(2)

Ocular TB can be classified into two subgroups: primary and secondary. Primary disease includes conjunctival, corneal and scleral involvement, whereas secondary disease implies the organism has spread to the eye haematogenously and includes uveitis (anterior, posterior or panuveitis). Retinal vasculitis, choroidal nodules, and choroiditis are likely the result of immune hypersensitivity. Patients with ocular TB will require both anti-inflammatory and anti-TB treatment. Anti-TB treatment normally involves quadruple agents (rifampicin, isoniazid, pyrazinamide, ethambutol) for 2 months, followed by 2 anti-TB agents (rifampicin and isoniazid) for a subsequent 4-6 months. This treatment regime is designed to minimise drug resistance. As ophthalmologists, we usually collaborate with our physician colleagues regarding anti-TB treatment and we will initiate and taper oral immunosuppression depending on the ocular response. Many studies have shown a positive result to anti-TB treatment and immunosuppression in reducing ocular TB and in minimising recurrence of the disease.(3,4)

In our patient, he developed neovascularisation and vitreous haemorrhage, likely related to TB given the positive Quantiferon result. Ocular TB is a complex problem due to a wide range of presentations and can be difficult to diagnose. More than 60% of patients with extrapulmonary TB may not have pulmonary lesions.(5) Diagnosis remains presumptive and is based on clinical findings and evidence of positive TB Quantiferon or IGRA consistent with latent infection. Polymerase chain reaction (PCR) analysis of intraocular fluids like the vitreous may be helpful with diagnosis, but are invasive tests and hence less commonly performed. Retinal vasculitis secondary to TB frequently involves veins, and is characterised by vitreous cells, retinal and or vitreous haemorrhages, and neovascularisation. It is still unknown whether the vasculitis is due to the infection itself or due to the immune mediated hypersensitivity response. The treatment of TB related retinal vasculitis includes systemic immunosuppression, anti-TB treatment, PRP, and pars plana vitrectomy if vitreous haemorrhage persists.(6)
TAKE HOME POINTS
Tuberculosis is increasing in incidence as more than 9 million new cases are diagnosed every year.

Ocular Tuberculosis may be difficult to diagnose due to a wide array of clinical manifestations.

Skin prick test (Mantoux), TB Quantiferon/IGRA, or tissue PCR may be helpful with the diagnosis.

More than 60% of patients with extrapulmonary TB may not have pulmonary lesions.

With presumed TB related occlusive vasculitis, the patient will require multidisciplinary care with oral immunosuppresion, anti-TB treatment, as well as laser photocoagulation, or surgery.
REFERENCES

World Health Organization (WHO). Frequently asked questions about TB and HIV. 2018; http://www.who.int/news-room/fact-sheets/detail/tuberculosis

Biswas J, Badrinath SS. Ocular morbidity in patients with active systemic tuberculosis. Int Ophthalmol. 1995;19(5):293–298.

Varma D, Anand S, Reddy AR et al. Tuberculosis: an under diagnosed aetiological agent in uveitis with an effective treatment. Eye. 2006;20:1068-1073.

Sheu SJ, Shyu JS, Chen LM et al. Ocular Manifestations of tuberculosis. Ophthalmology. 2001;108(9):1580-1585.

Alvarez S, McCabe WR. Extrapulmonary tuberculosis revisited: a review of experience at Boston City and other hospitals. Medicine (Baltimore). 1984;2013:25–55

Patricio MS, Portelinha J, Passarinho MP et al. Tubercular Retinal Vasculitis. BMJ Case Reports. 2013;PMC3702819
Back