Figure 1. Colour fundus photographs shows a circular area of macular elevation associated with haemorrhage and hard exudate in the left eye.
A 54-year-old male was referred with reduced vision in his left eye.
A 54-year-old male was referred by his optometrist with a 2-month history of blurring of vision in his left eye, most noticeable over the previous 2 weeks.

Best corrected visual acuities were 6/5 in the right eye (OD) and 6/12 in the left eye (OS). Intraocular pressures were 15mmHg in both eyes. Examination of the anterior segment was unremarkable. Examination of the posterior segments revealed a circular area of macular elevation associated with haemorrhage and hard exudate in the left eye, and pigmentary changes in the right eye (Figure 1). No drusen were visible.
The differential diagnosis of a macular elevation associated with haemorrhage and hard exudate includes:

Neovascular age-related macular degeneration

Diabetic retinopathy

Retinal vein occlusion

Macroaneurysm

Choroidal neovascularisation (CNV) due to other causes
Additional history, examination and investigations
The patient was otherwise well with no significant past history. He was not on any medications. Optical coherence tomography (OCT) demonstrated sub and intraretinal fluid at the left macula and a thickened choroid (Figure 2). Fluorescein angiography showed leakage in the region of the haemorrhage in the left eye, as well as several other pinpoint leaks. In the right eye there was pooling within a serous PED adjacent to the optic nerve and stippled fluorescence close to the fovea (Figure 3).

Figure 2. OCT demonstrating sub and intraretinal fluid in the left macula, and an isolated PED in the right eye.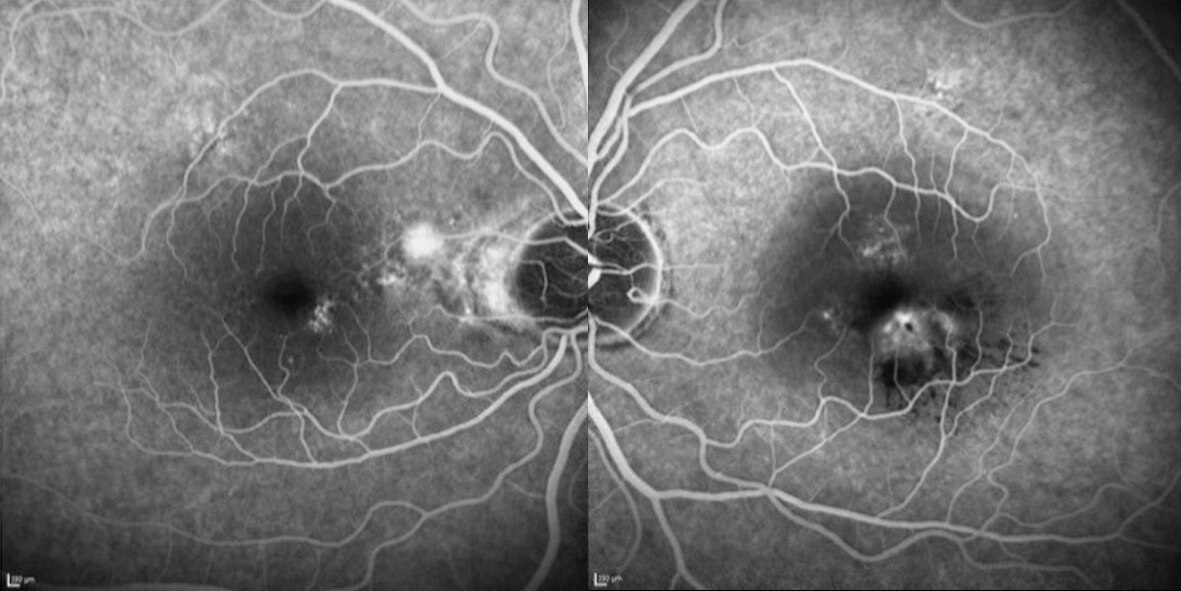 Figure 3. Fluorescein angiography of the left eye (A) demonstrates leakage inferior to the fovea and several pinpoint areas of hyperfluorescence. In the right eye (B) there is pooling within a serous PED temporal to the optic nerve and stippled fluorescence towards the fovea.
DIAGNOSIS
Central serous retinopathy complicated by choroidal neovascularisation (CNV).
The patient was treated with several intravitreal injections of intravitreal bevacizumab, with resolution of the sub and intraretinal fluid and haemorrhage. The vision returned to 6/5. A small macular scar, representing the regressed CNV, was visible on OCT scans (Figure 4). After 3 years of follow-up there has been no recurrence of subretinal fluid or CNV.
Central serous chorioretinopathy (CSC) is characterised by serous detachment of the retina due to leakage from the choriocapillaris through the retinal pigment epithelium.(1,2) Steroid use, stress, systemic hypertension and obstructive sleep apnoea have all been associated with CSC.1 In these situations elevated levels of cortisol and epinephrine are though to impair the choroidal circulation. The condition is most common in middle aged males, with a reported incidence of 10 per 100000, approximately 8 times more frequent than in women. Patients present with symptoms of macular dysfunction, including blurred vision, metamorphopsia, micropsia and reduced contrast sensitivity.

Optical coherence tomography typically demonstrates subretinal fluid, often associated with small pigment epithelial detachments3 and an increased choroidal thickness(4). The classic fluoresein angiography appearance of a "smokestack' pattern of hyperfluorescence is seen in about 15% of cases. ICG angiography demonstrates abnormally dilated choroidal vessels and choroidal hyperpermeability.(2)

Although overall prognosis is excellent, with 80-90% of acute cases showing complete resolution of the serous detachment, it is common for mild visual symptoms to remain.(1) There is a 40-50% risk of recurrence in the same eye. Approximately 10% of patients experience a more chronic and severe course, with potential for significant loss of vision. These patients often display multiple pigment epithelial detachments, multifocal areas of leakage, and turbid subretinal fluid.(3) CNV has been reported to occur in 5% of patients with CSR(1), and is often sub-retinal pigment epithelial (Type 1)(5).

Whilst there is no gold standard treatment option for CSR, several approaches have been found to be beneficial. Photodynamic therapy with verteporfin (Visudyne) reduces choroidal hyperpermeability, decreases choroidal vascular congestion and thickness, and can be effective in the treatment of chronic CSR. Due to concerns regarding choroidal ischaemia with full fluence PDT, reduced fluence PDT has been studied and may yield similar results.(6) Thermal focal laser photocoagulation of RPE leaks has been noted to improve resorption of subretinal fluid and permit faster recovery of vision but its use is limited to extrafoveal leaks. Subthreshold diode (810-nm) micropulse laser is an alternative treatment that may restore RPE function without thermal injury to the retina through poorly understood mechanisms. The mineralocorticoid antagonists eplerenone and spironolactone have shown promise in treating CSC, although larger scale trials are required and the use of these drugs requires close monitoring of blood pressure and electrolytes.(7) Trials of Anti-VEGF agents have shown inconsistent results, and to date the evidence does not support their use, apart from those cases in which CNV has developed.(8)
TAKE HOME POINTS
Central serous chorioretinopathy is a common cause of visual reduction, particularly in young to middle-aged men.


Overall prognosis is excellent, with 80-90% chance of spontaneous resolution.


10 to 20% of cases have a chronic course with potential for significant visual loss. These cases can be complicated by choroidal neovascularization.


Treatment options for CSC include including thermal and micropulse laser, photodynamic therapy and systemic medications. Anti-VEGF therapy should be reserved for treatment of secondary CNV..
REFERENCES

Wang M, Munch IC, Hasler PW, Prunte C, Larsen M. Central serous chorioretinopathy. Acta Ophthalmol 2008;86:126-45.

Kitaya N, Nagaoka T, Hikichi T, et al. Features of abnormal choroidal circulation in central serous chorioretinopathy. Br J Ophthalmol 2003;87:709-12.

Shinojima A, Hirose T, Mori R, Kawamura A, Yuzawa M. Morphologic findings in acute central serous chorioretinopathy using spectral domain-optical coherence tomography with simultaneous angiography. Retina 2010;30:193-202.

Imamura Y, Fujiwara T, Margolis R, Spaide RF. Enhanced depth imaging optical coherence tomography of the choroid in central serous chorioretinopathy. Retina 2009;29:1469-73.

Fung AT, Yannuzzi LA, Freund KB. Type 1 (Sub-retinal pigment epithelial) Neovascularization in Central Serous Chorioretinopathy Masquerading as Neovascular Age-related Macular Degeneration. Retina 2012; 32:1829-1837.

Butler AL, Fung AT, Merkur AB, Albiani DA, Forooghian F. Very Minimal Photodynamic Therapy for Chronic Central Serous Chorioretinopathy. Can J Ophthalmol. 2012 Feb; 47;1:42-44.

Bousquet E, Beydoun T, Zhao M, Hassan L, Offret O, Behar-Cohen F. Mineralocorticoid receptor antagonism in the treatment of chronic central serous chorioretinopathy: a pilot study. Retina 2013;33:2096-102.

Chung YR, Seo EJ, Lew HM, Lee KH. Lack of positive effect of intravitreal bevacizumab in central serous chorioretinopathy: meta-analysis and review. Eye (Lond) 2013;27:1339-46.
Back