Figure 1. Colour fundus photograph of the left macula. There are signs of myopia including tilting of the optic disc, tessellation and pallor in the temporal posterior pole.
A 51-year-old high myope was referred with reduced vision in her left eye.
A 51-year-old female was referred with gradual deterioration in vision in her left eye over the preceding months. This was on a background of high myopia (SE -8.0D). Her optometrist had noted changes at the left macula and referred her for further opinion and management.

On examination best corrected visual acuities measured right 6/9 and left 6/18. Intraocular pressures were normal and anterior segment examination was unremarkable. Posterior segment examination demonstrated typical features of a myopic fundus with tilted optic nerves and a tessellated appearance (Figure 1). Peripheral retinal examination did not demonstrate any retinal tears or significant pathology.
The differential diagnosis includes:

Posterior staphyloma

Myopic foveoschisis

Macular hole retinal detachment
Additional history, examination and investigations
Optical coherence tomography (OCT) demonstrated a posterior staphyloma, retinoschisis and limited foveal detachment (Figure 2).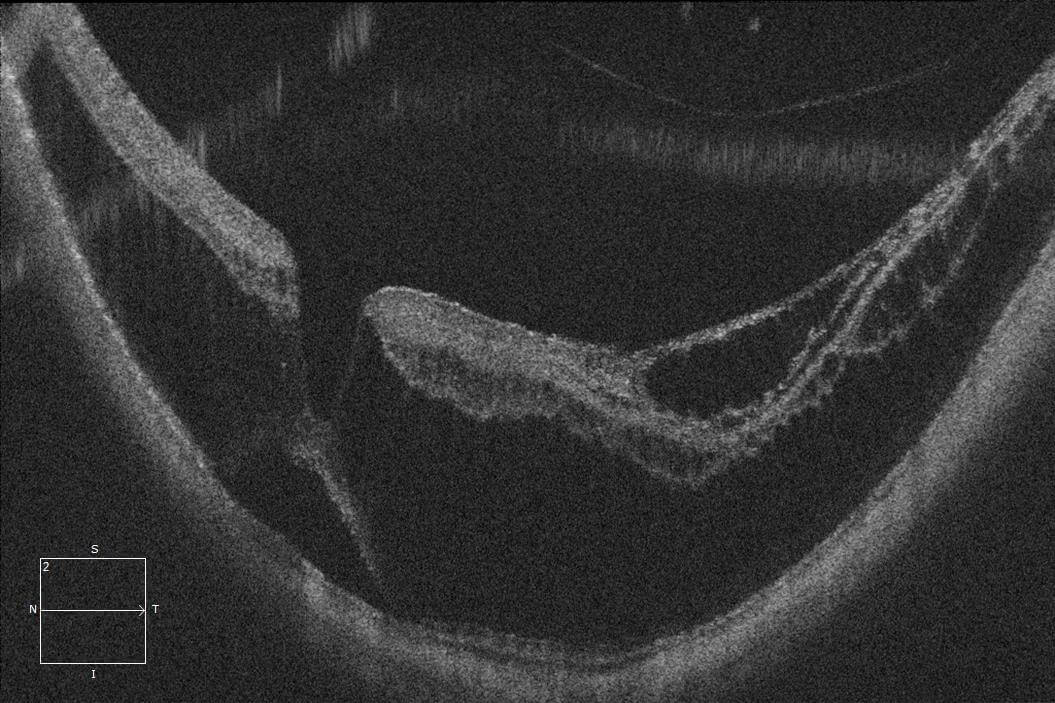 Figure 2. Optical coherence tomography through the left fovea demonstrating a staphyloma, retinoschisis and limited foveal detachment. Note the thicker inner retinal layer, thinner outer retinal layer, intervening bridging columns and epiretinal membrane.
DIAGNOSIS
Myopic foveoschisis (also known as myopic tractional maculopathy).
The findings and diagnosis was discussed with the patient and her options outlined. After a brief period her vision deteriorated further to 6/30-1 and a pars plana vitrectomy was performed. Over the ensuing months the OCT findings progressively improved with an associated improvement in her visual acuity measuring 6/18 at the 3 month post operative visit (Figures 3 and 4).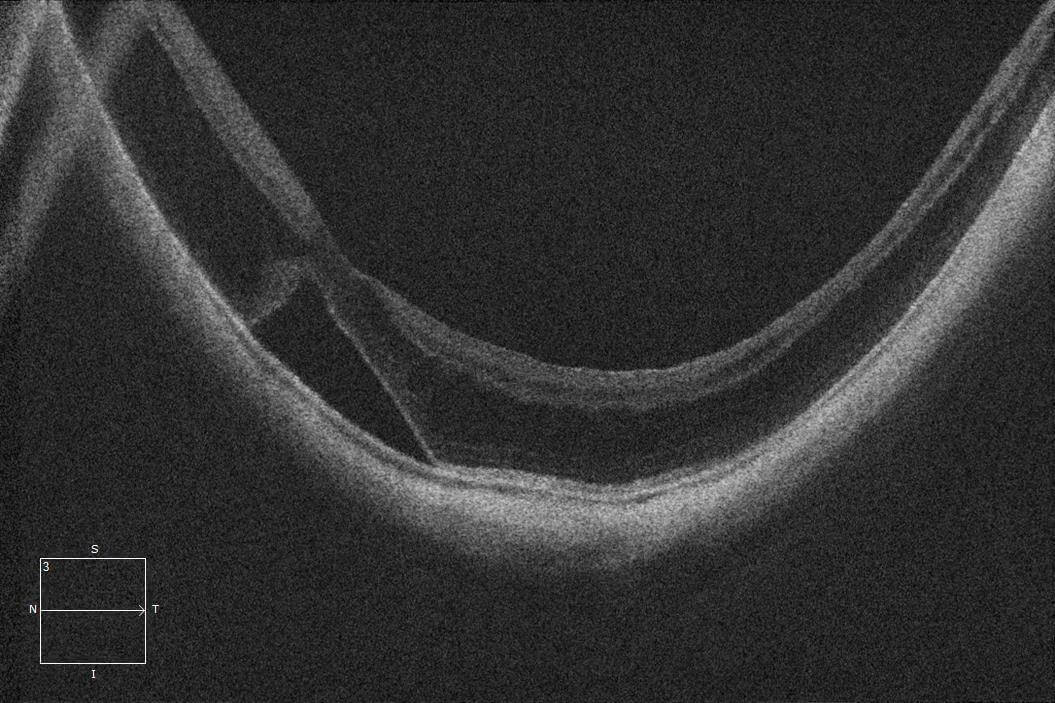 Figure 3. One month postoperative OCT demonstrating relief of the traction and an improvement in the macular architecture.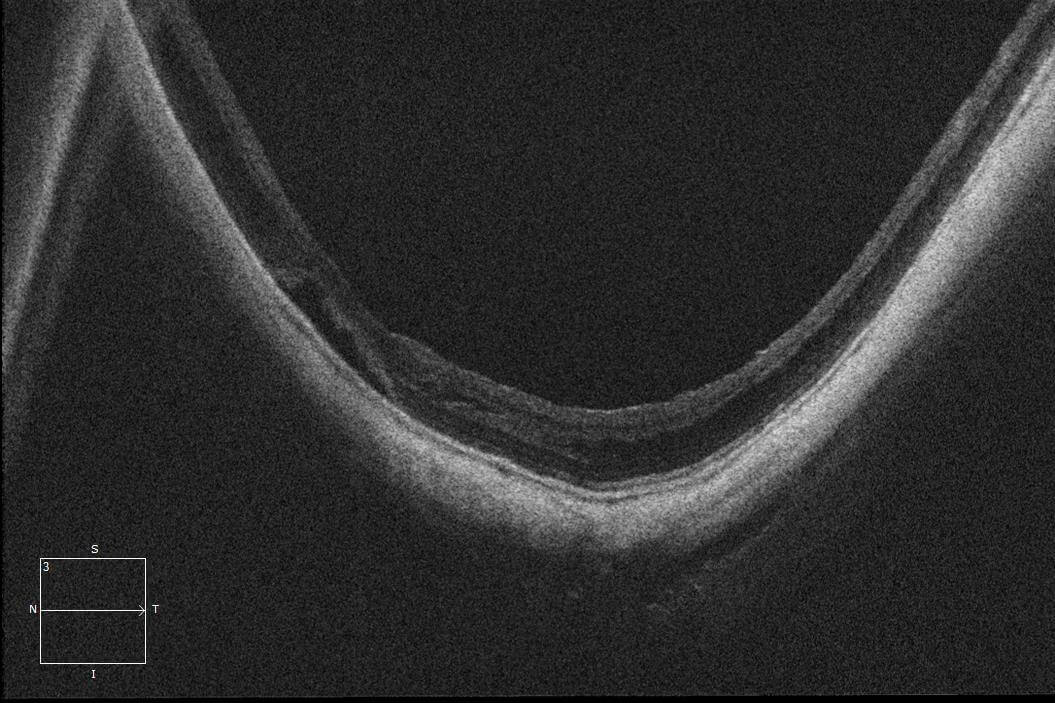 Figure 4. Three month postoperative OCT demonstrating further resolution of the retinoschisis and foveal detachment.
Myopic foveoschisis is one of the major causes of vision loss in highly myopic eyes with an estimated incidence of 8-34% of high myopes.(1) It may be an incidental finding and progress slowly such that patients remain asymptomatic. The natural history however, in around 25% of cases, involves progression to more serious complications such as foveal detachment, macular hole formation and macular hole retinal detachment.(2-3) If left untreated these may result in severely reduced vision.

Myopic foveoschisis almost always occurs in the presence of a posterior staphyloma. The pathogenesis is considered to partly related to the expansion of the staphyloma and to diverse inner tractional forces from the cortical vitreous, non-compliant native internal limiting membranes, epiretinal membranes or retinal vascular rigidity.(1,4)

OCT imaging provides diagnostic confirmation typically demonstrating a splitting of the neural retina into complex schitic spaces. As in our case, the OCT image may also demonstrate foveal detachments and epiretinal membranes.

Surgery is usually considered in cases where there is progressive decline in the patients' visual acuity typically with the development of a foveal detachment. As there are significant surgery associated risks, careful case selection and patient counselling is paramount. Favourable anatomic and visual outcomes have been demonstrated with pars plana vitrectomy, internal limiting membrane peel and gas tamponade.(5) Using these techniques resolution of the myopic foveoschisis can be achieved in the majority of cases however full resolution may take up to 6 months.
TAKE HOME POINTS
Myopic foveoschisis is a major cause of visual loss in highly myopic eyes.


Optical coherence tomography provides diagnostic confirmation and typically demonstrates a thicker inner retinal layer, thin outer retinal layer and bridging intraretinal columns.


Myopic foveoschisis may progress and develop foveal detachment, macular holes or macular hole retinal detachments.


Surgical intervention is indicated when there is progressive visual decline typically due to the development of an early foveal detachment.
REFERENCES

R Gohil, Sivaprasad S, Han LT, et al. Myopic Foveoschisis: A Clinical Review. Eye 2015; 29: 593–601.

Shimada N, Ohno-Matsui K, Baba T, et al. Natural course of macular retinoschisis in highly myopic eyes without macular hole or retinal detachment. Am J Ophthalmol. 2006:142(3):497-500

Gaucher D, Haouchine B, Tadayoni R, et al: Long-term follow-up of high myopic foveoschisis: natural course and surgical outcome. Am J Ophthalmol. 2007;143 (3):455-462.

VanderBeek BL, Johnson MW. The diversity of traction mechanisms in myopic traction maculopathy. Am J Ophthalmol 2012;153:93-102

Mii M, Matsuoko M, Matsuyama K, et al. Favourable anatomic and visual outcome with 25-gauge vitrectomy for myopic foveoschisis. Clinical Ophthalmol 2014;8:1837-1844
Back