Figure 1. The left posterior segment reveals vitritis, chorioretinitis and a chorioretinal scar
A 31-year-old female was referred with floaters and reduced vision.
A 31-year-old female was referred from her optometrist with floaters and reduced vision in her left eye over 1 week. Best corrected visual acuity was 6/5 in the right eye (OD) and 6/15 in the left eye (OS). Intraocular pressures were 14mmHg in both eyes. There were 1+ cells in the left anterior chamber. Examination of the left posterior segment revealed vitritis, a chorioretinal scar at the macula, and an area of chorioretinitis just nasal to this (Figure 1). The right eye was normal.
The differential diagnosis of focal chorioretinitis is extensive, but most commonly includes:

A) Infectious

Protozoal: Toxoplasma chorioretinitis

Bacterial: Syphilis, Tuberculosis

Viral: Acute retinal necrosis
B) Non-Infectious
Additional history, examination and investigations
The patient was otherwise well. She was of subcontinental background and there was no history of recent overseas travel. Optical coherence tomography (OCT) performed at presentation shows the area of chorioretinitis, and the adjacent chorioretinal scar (Figure 2). Fluorescein angiography shows disc leak and subtle inferior periphlebitis, consistent with the inflammatory nature of the presentation (Figure 3). Serological testing for sarcoidosis, tuberculosis and syphilis was negative.

Figure 2. Optical coherence tomography demonstrating active chorioretinitis (thin arrow) and adjacent scar (thick arrow).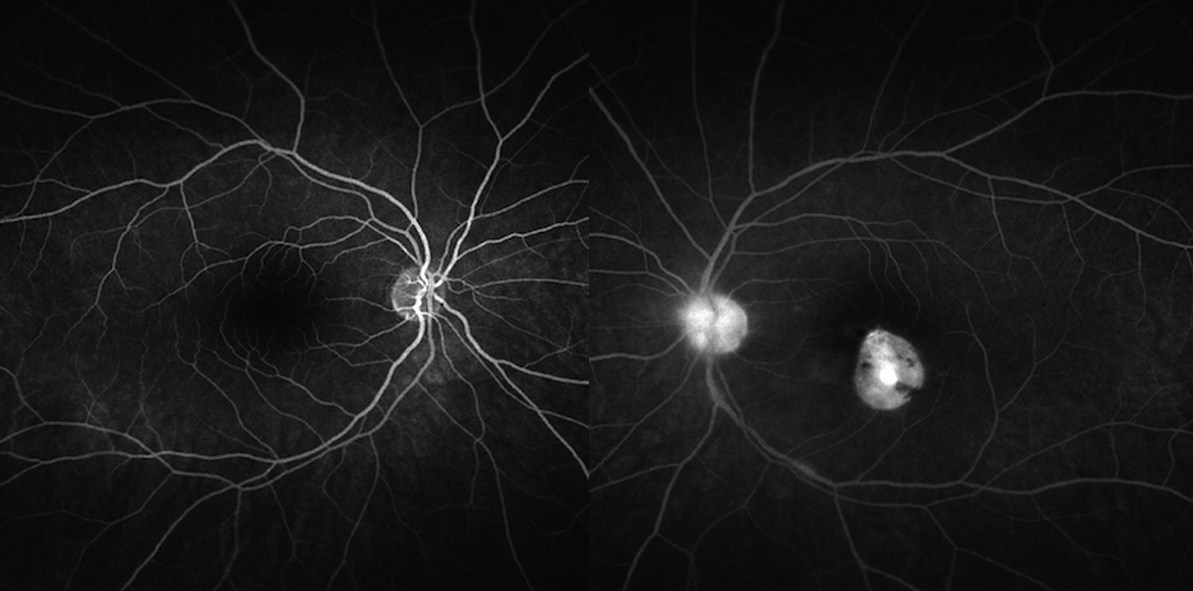 Figure 3. Fluorescein angiography shows left disc leak and inferior periphlebitis.
DIAGNOSIS
Toxoplasma chorioretinitis.
The patient was commenced on oral clindamycin 300mg qid for six weeks. Two days after commencing clindamycin she was commenced on a tapering course of oral prednisone. At the conclusion of treatment the acute inflammatory signs had resolved and there was a developing chorioretinal scar (Figures 4 and 5). The vision improved to 6/9.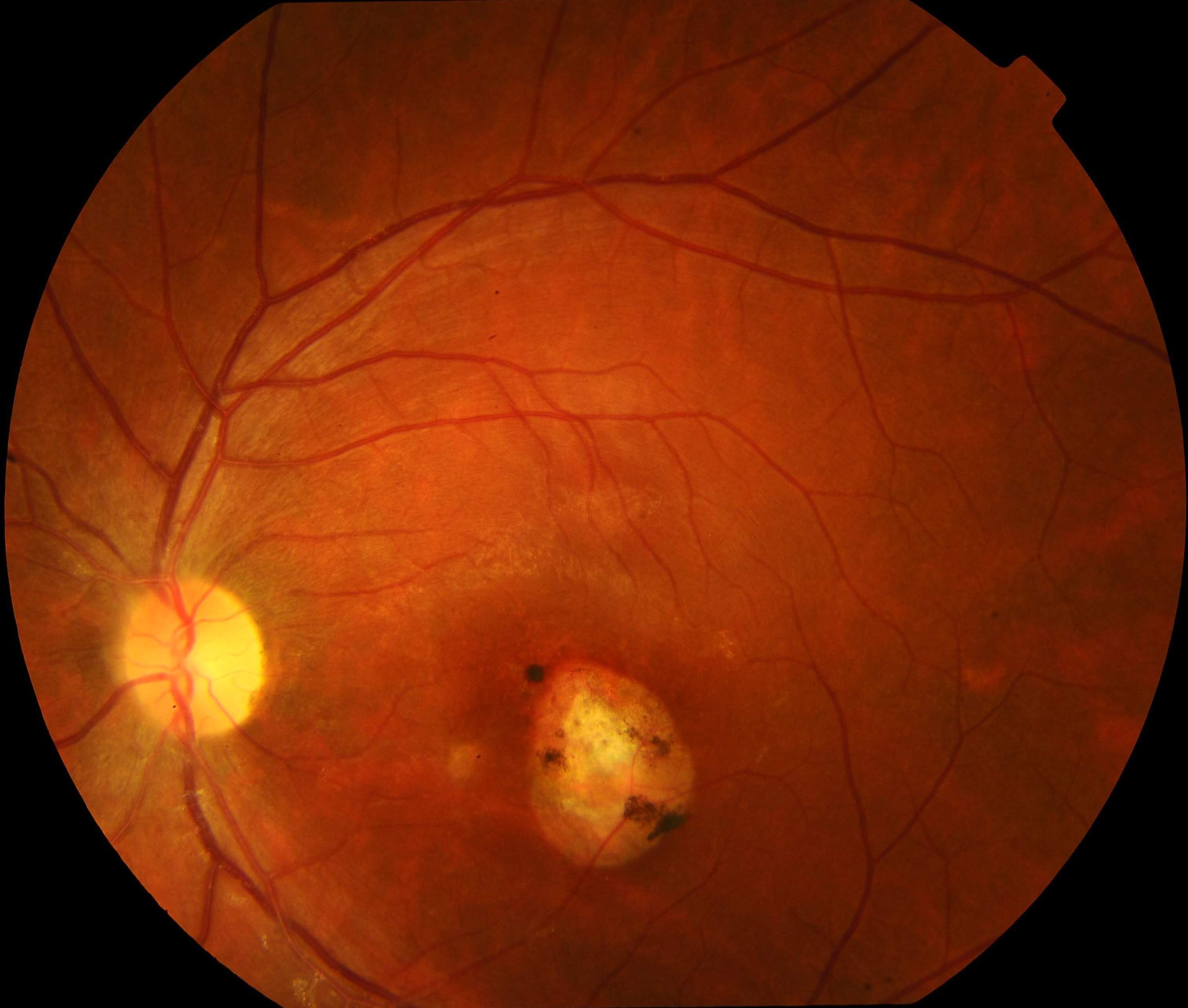 Figure 4. Resolution of vitritis and chorioretinitis at conclusion of treatment.

Figure 5. Optical coherence tomography demonstrating resolution of the chorioretinitis.
Toxoplasma gondii is an obligate, intracellular parasitic protozoan. Infection with this organism is the most common cause of posterior uveitis in non-immunocompromised individuals.(1) Sexual reproduction of the parasite occurs in small intestinal epithelial cells of the cat, with subsequent faecal elimination of oocysts. Once ingested by other animals, which serve as intermediate hosts, the oocysts rupture to release tachyzoites, which ultimately travel to target tissues to become tissue cysts or bradyzoites. Traditionally, it was thought that most active ocular toxoplasmosis represented reactivation of congenital toxoplasmosis acquired transplacentally from the mother. Recently, however, it has been shown that acquired infections occur more frequently than previously suspected.(2) Transmission can occur by ingesting oocysts, tachyzoites, tissue cysts or bradyzoites. In addition to contaminated food, water source contamination is increasingly recognized as a source of infection.

Toxoplasma infection is asymptomatic in most immunocompetent patients and, when it occurs, is usually benign and self-limited. The infection may be much more severe, however, in the foetus and immunocompromised patients. Ocular toxoplasmosis typically presents unilaterally as a focus of necrotizing chorioretinitis,(3) adjacent to a chorioretinal scar. There is usually a variable degree of intraocular inflammation involving the retina itself (oedema or localised retinal detachment), the retinal vessels (periphlebitis and/or segmental periarteritis), the optic nerve head (papillitis), the vitreous (vitritis, with precipitates on the detached posterior hyaloid), as well as the anterior segment (keratic precipitates, anterior uveitis, with or without elevated intraocular pressure).(3)

The diagnosis of ocular toxoplasmosis is made mainly by clinical observation of a focal necrotizing retinochoroiditis.(3) In atypical cases, serologic tests such as serum anti-Toxoplasma titres of IgM and IgG may be helpful to support the diagnosis. Negative IgG serology can help exclude ocular toxoplasmosis. Polymerase chain reaction of aqueous and vitreous samples has a high sensitivity and specificity.3

Non-sight-threatening lesions are frequently managed with observation. However, where the optic nerve, macula or a major retinal vessel are threatened or the vision is significantly restricted, therapy should be instituted.(4) Treatment includes prompt initiation of oral antibiotics as well as topical anti-inflammatory and cycloplegic agents. This is followed, usually 24-48 hours later, by the initiation of oral prednisone at high doses that are tapered slowly. Several antibiotics or combinations of antibiotics have been utilised with success.(5) More recently, treatment with an intravitreal combination of clindamycin and dexamethasone has also been shown to be successful.(6)

The recurrence rate of toxoplasmic retinochoroiditis correlates inversely with the period of follow-up, with a two year rate of up to 10 percent.(7) Long-term intermittent treatment with trimethoprim(160 mg)/sulfamethoxazole(800 mg) every three days may reduce the recurrence rate.(7)
TAKE HOME POINTS
Toxoplasma chorioretinitis is the most common cause of posterior uveitis.


An area of active chorioretinitis adjacent to a pigmented chorioretinal scar is highly suggestive of the disease.


Not all presentations require treatment. Lesions threatening the optic nerve or macula or causing significant vitritis may require treatment.


Several antibiotic options are available and are typically prescribed for 4 to 6 weeks. Oral steroid is usually started 48 hours after commencing antibiotic to mitigate the host inflammatory response.
REFERENCES

Perkins ES. Ocular toxoplasmosis. Br J Ophthalmol 1973;57:1-17.

Gilbert RE, Stanford MR. Is ocular toxoplasmosis caused by prenatal or postnatal infection? Br J Ophthalmol 2000;84:224-6.

Dodds EM, Holland GN, Stanford MR, et al. Intraocular inflammation associated with ocular toxoplasmosis: relationships at initial examination. Am J Ophthalmol 2008;146:856-65 e2.

Bosch-Driessen LE, Berendschot TT, Ongkosuwito JV, Rothova A. Ocular toxoplasmosis: clinical features and prognosis of 154 patients. Ophthalmology 2002;109:869-78.

Stanford MR, See SE, Jones LV, Gilbert RE. Antibiotics for toxoplasmic retinochoroiditis: an evidence-based systematic review. Ophthalmology 2003;110:926-31; quiz 31-2.

Soheilian M, Ramezani A, Azimzadeh A, et al. Randomized trial of intravitreal clindamycin and dexamethasone versus pyrimethamine, sulfadiazine, and prednisolone in treatment of ocular toxoplasmosis. Ophthalmology 2011;118:134-41.

Soheilian M, Sadoughi MM, Ghajarnia M, et al. Prospective randomized trial of trimethoprim/sulfamethoxazole versus pyrimethamine and sulfadiazine in the treatment of ocular toxoplasmosis. Ophthalmology 2005;112:1876-82.
Back