Figure 1. Colour fundus photography of the left macula. There is a whitish discolouration to the surface of the retina and an avoid appearance to the fovea.
A 60-year-old female was referred with an incidental finding at her left macula.
A 60-year-old Asian female was referred with incidental findings at her left macula found on routine examination. She denied blurred vision or metamorphopsia. She had no significant past ocular history and her medical history included hypertension only. Her optometrist had noted changes at the left macula and referred her for a further opinion and management.

On examination her visual acuity was 6/6 bilaterally and intraocular pressures were normal. Anterior segment examination was unremarkable. There were posterior vitreous detachments in both eyes. Posterior segment examination demonstrated a left epiretinal membrane, loss of the normal foveal reflex and a dark ovoid area at the fovea. Peripheral retinal examination did not demonstrate a retinal tear or significant pathology.
Lamellar macular hole (LMH)

Full thickness macular hole (FTMH)

Macular pseudohole

Epiretinal membrane

Foveal haemorrhage
Additional history, examination and investigations
Optical coherence tomography (OCT) demonstrated an epiretinal membrane and a steepening of the foveal contour (Figure 2). This was consistent with the clinical appearance and diagnosis of a macular pseudohole. The integrity of the foveal photoreceptors was preserved.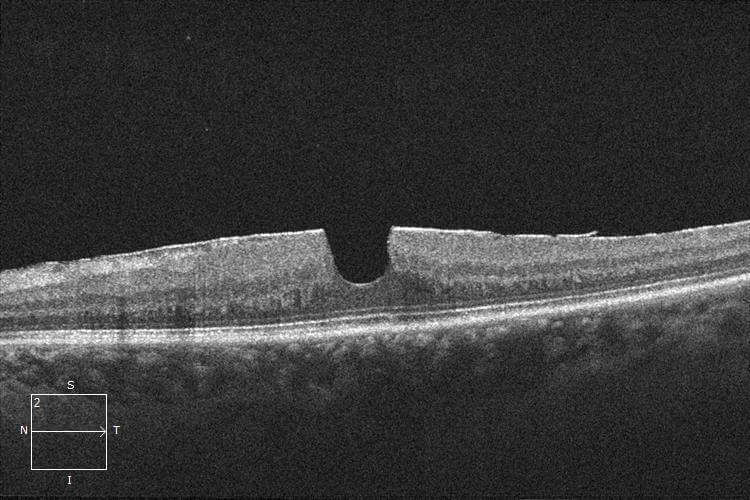 Figure 2. Optical coherence tomography through the fovea demonstrating the epiretinal membrane as a hyper-reflective layer on the surface of the retina and steepening of the foveal contour. Note the preservation of the foveal photoreceptors, particularly the integrity of the external limiting membrane and ellipsoid zone. These findings are consistent with a macular pseudohole.
DIAGNOSIS
Left idiopathic macular pseudohole.
The findings were discussed with the patient. As the patient was asymptomatic with good visual acuity and no metamorphopsia, she was reassured and monitored for progression. Over the ensuing 12 months there was a deterioration in her visual acuity to 6/12 and progression on serial OCT imaging with the formation of an early lamellar macular hole (Figure 3).

In light of the changes, a pars plana vitrectomy and epiretinal membrane peel was performed. There was a gradual improvement in the postoperative period with the patient's left visual acuity recovering to 6/6 in the months following surgery. This was despite residual changes on OCT imaging (Figure 4).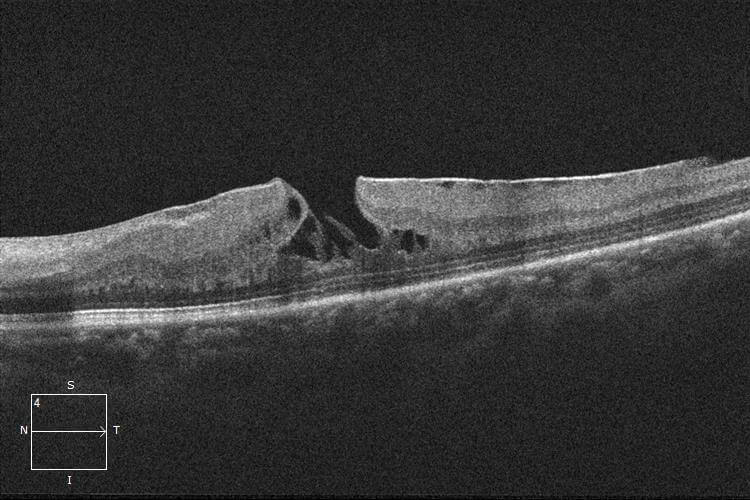 Figure 3. Optical coherence tomography demonstrating progression with the formation of an associated lamellar macular hole.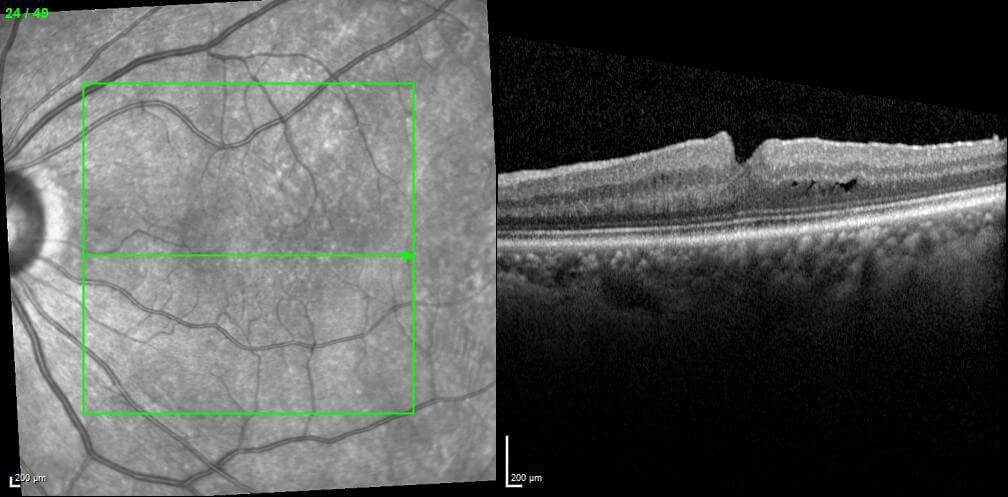 Figure 4. Postoperative optical coherence tomography at level of left fovea.
Epiretinal membrane (ERM) is a term used to describe cellular proliferation on the inner retinal surface.(1) ERMs range from benign asymptomatic thin transparent membranes through to semitransparent, thick and contractile membranes associated with debilitating metamorphopsia and central visual loss.

The majority of ERMs occur in the absence of other ocular pathology and are termed idiopathic. Secondary ERMs may occur in association with retinal vascular diseases, ocular inflammatory disease, trauma, intraocular surgery, retinal tears, detachments or laser. The most common risk factors for idiopathic ERMs include age, posterior vitreous detachment, and a history of ERM in the fellow eye.(1)

As in our case, contraction of the ERM sometimes leads to a steepening of foveal contour and a clinical appearance that resembles a macular hole, in which case the term "macular pseudohole" is used. This is a clinical diagnosis but has a characteristic OCT appearance described below. A lamellar macular hole occurs when there a defect, often splitting (schisis) of the inner retina. These terms have recently been clarified by the 2013 International Vitreomacular Traction Study Group:(2)

Macular Pseudohole

Invaginated or heaped foveal edges

Concomitant ERM with central opening

Steep macular contour to the central fovea with near-normal central foveal thickness

No loss of retinal tissue
Lamellar Macular Hole
Irregular foveal contour

Defect in inner fovea

Intraretinal splitting (schisis), typically between the outer plexiform and outer nuclear layers

Maintenance of an intact photoreceptor layer
The two principle indications for surgery include reduced visual acuity and significant metamorphopsia in which case a pars plana vitrectomy and epiretinal membrane peel is performed. Removal of the internal limiting membrane is also often performed in an attempt to reduce the risk of recurrence.
(3)
Surgery for lamellar macular hole alone remains controversial, with variable results. However it may be indicated when there is an associated ERM (such as in a case of macular pseudohole) and decline in vision. The majority of patients with a clinically significant ERM will respond to vitrectomy and membrane peeling. Over 80% of patients will gain two or more lines of vision and 90% report an improvement in functional vision.
(4)
Typically, this improvement is gradual and observed over up to 12 months. Additionally, whilst the macular thickness often decreases after surgery the macular profile rarely returns to normal.
(5)
As in our case this does not preclude satisfactory improvement of visual acuity.
(5)
Photoreceptor disruption detected by optical coherence tomography has been found to be a predictor of poor visual outcome.6 Monitoring of patients with epiretinal membranes is important to detect early deterioration and intervention prior to irreversible photoreceptor damage.
TAKE HOME POINTS
Macular pseudohole is a clinical diagnosis where an epiretinal membrane is associated with a central opening, giving the appearance of a full thickness macular hole


Lamellar macular hole is a defect in the inner fovea, often associated with splitting (schisis)


When there is an associated epiretinal membrane (such as in a macular pseudohole), surgery with vitrectomy and membrane peeling may be indicated if there is reduced visual acuity and/or metamorphopsia.


Preoperative visual acuity and foveal photoreceptor integrity are important prognostic indicators.
REFERENCES

Bu S, Kuijer R, Li X et al. Idiopathic Epiretinal Membrane. Retina 2014; 34:2317-2335.

Duker et al. The International Vitreomacular Traction Study Group Classification of Vitreomacular Adhesion, Traction, and Macular Hole. Ophthalmology 2013;120:2611-2619.

Chang S, Gregory-Roberts E, Park S, et al. Double peeling during vitrectomy for macular pucker: the Charles L. Schepens Lecture. JAMA Ophthalmol 2013; 131:525-530.

Wong J, Sachdev N, Beaumont P, Chang A. Visual outcomes following vitrectomy and peeling of epiretinal membrane. Clin Experiment. Ophthalmol. 2005; 33:373-378

Massin P, Allouch C, Haouchine B, et al.: Optical coherence tomography of idiopathic macular epiretinal membranes before and after surgery. Am J Ophthalmol. 2000; 130:732-739.

Suh M, Seo J, Park K, Yu H. Association between macular findings by optical coherence tomography and visual outcomes after epiretinal membrane removal. Am J Ophthalmol. 2009; 147:473-480.
Back