Figure 1. Colour fundus photographs reveal multiple, deep, yellow-white lesions nasal to the optic discs.
A 54-year-old Caucasian female saw her optometrist complaining of bilateral flashes and floaters.
A 54-year-old Caucasian female saw her optometrist complaining of bilateral photopsiae and floaters. The patient was otherwise well and there was no previous significant ocular history.

Visual acuity was 6/7.5 in the right eye (OD) and 6/6-2 in the left eye (OS). Intraocular pressures were normal. Anterior chambers were quiet, but non-pigmented vitreous cells were present bilaterally. On fundus examination multiple, deep, yellow-white lesions were visible in the posterior pole, most prominent nasal to the optic discs.
The differential diagnosis of vitritis in association with chorioretinal lesions includes:
A) Inflammatory:
Sarcoidosis

Birdshot chorioretinopathy

Vogt-Koyanagi-Harada (VKH) Syndrome

Sympathetic ophthalmia
B) Infective:
C) Neoplastic
Additional history, examination and investigations
Fluorescein angiography showed bilateral retinal vasculitis and disc leak (Figure 2). Indocyanine green (ICG) angiography demonstrated multiple hypofluorescent choroidal lesions in both eyes (Figure 3). Optical coherence tomography scans did not reveal any macular oedema. Visual field testing showed mild scattered changes. A chest x-ray was clear. Screening blood tests for sarcoidosis (serum ACE), syphilis serology and tuberculosis (Quantiferon) were all negative. The patient was HLA-A29 positive.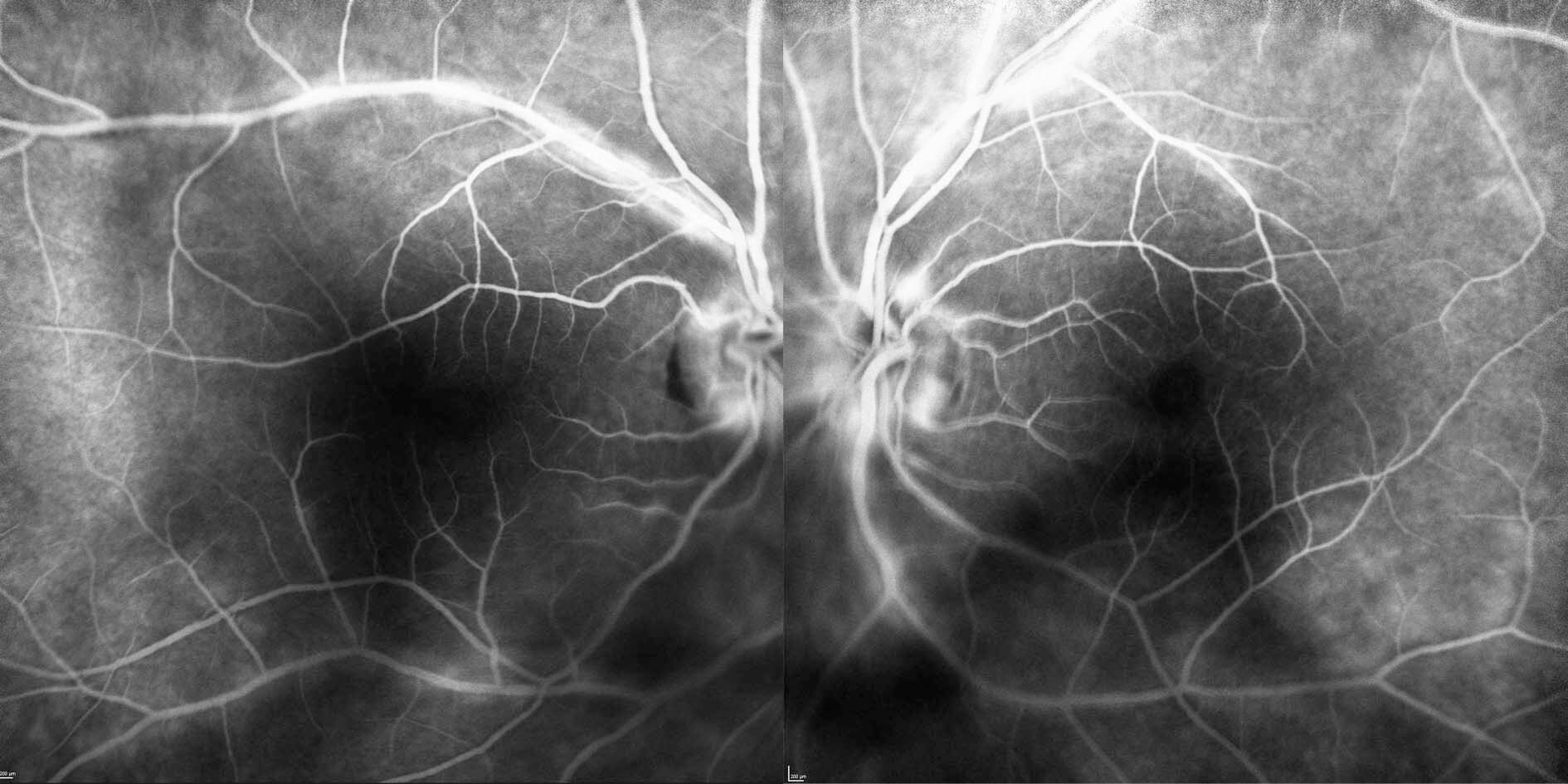 Figure 2. Fluorescein angiography demonstrates bilateral vasculitis (hyperfluorescent leakage along the retinal vessels) and disc leak.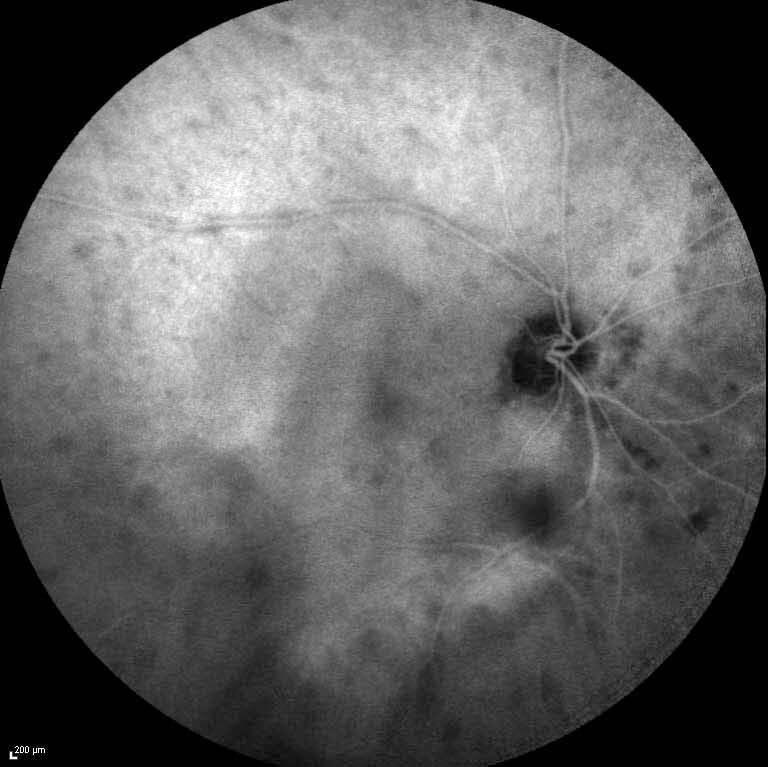 Figure 3. Indocyanine green angiography of the right eye demonstrates multiple hypofluorescent choroid lesions in a "birdshot" distribution in the posterior pole.
DIAGNOSIS
Birdshot chorioretinopathy.
The patient was prescribed a short course of tapering oral prednisone and is awaiting electrophysiological (ERG) testing to aid in ongoing monitoring and management. Her photopsiae have resolved.
Birdshot chorioretinopathy is a chronic posterior uveitis characterised by vitritis and the presence of multiple hypopigmented chorioretinal lesions in the posterior pole.(1) The cause is unknown.

The disease is more common in Caucasians.(2) Presentation is typically in middle-age, with the most common symptoms being blurred vision and floaters.(2) Photopsiae, nyctalopia and glare are also common.

In the early stages visual acuity may be normal or only mildly reduced. Anterior chambers are typically quiet, with the major signs including vitritis, choroidal lesions, macular oedema and vasculitis.(2) The classic "birdshot" lesions are small (one quarter to one-half a disc diameter), hypopigmented, and located in the posterior pole, often with a nasal distribution.(2) The lesions may not be visible clinically early in the course of disease, making diagnosis difficult without access to ICG angiography, which can highlight lesions more readily. The most common cause of visual loss is macular oedema,(3) although severe vitritis, choroidal neovascular membrane (CNVM) and involvement of the fovea by an active lesion are other possible causes.(2)

As illustrated in this case, the differential diagnosis for birdshot chorioretinopathy includes a range of disease entities that can present with vitritis and chorioretinal lesions. There is a strong link to positivity for the HLA-A29 molecule, which is present in more than 90% of cases of birdshot chorioretinopathy.(4) However, HLA-A29 negativity does not exclude the disease.

Serial visual field and electrophysiological testing can be very helpful in monitoring disease activity and progression(5,6), as there may be little change in the fundus appearance despite progressive retinal dysfunction.

Treatment of this condition is still debated. Isolated episodes can resolve with a tapering course of systemic steroids, although some patients may not show an adequate response. Birdshot chorioretinopathy is a chronic relapsing and remitting disease, and some clinicians advocate the early institution of second line agents such as mycophenolate mofetil,(6,7) in order to prevent the development of macular oedema or reduce long-term exposure to high dose systemic steroids.(3) Treatment decisions are guided by factors such as current vision and symptoms, the presence of macular oedema, and evidence of progressive dysfunction on electrophysiological testing.
TAKE HOME POINTS
Not all flashes and floaters are related to vitreo-retinal traction (PVD).


A quiet anterior segment does not exclude posterior uveitis.


Birdshot chorioretinopathy is a chronic, relapsing and remitting disease with a variable prognosis.


It is characterised by small round, hypopigmented choroidal lesions distributed in a "birdshot" fashion in the posterior pole. These lesions are hypofluorescent on indocyanine green angiography.


A common cause of visual loss is macular oedema.


Oral steroid and second line immunosuppressive agents may be required in order to prevent visual loss.


Electrophysiology testing can be used to monitor disease activity..
REFERENCES

Levinson RD, Rajalingam R, Park MS, et al. Human leukocyte antigen A29 subtypes associated with birdshot retinochoroidopathy. American journal of ophthalmology 2004;138:631-4.

Priem HA, Oosterhuis JA. Birdshot chorioretinopathy: clinical characteristics and evolution. The British journal of ophthalmology 1988;72:646-59.

Thorne JE, Jabs DA, Peters GB, Hair D, Dunn JP, Kempen JH. Birdshot retinochoroidopathy: ocular complications and visual impairment. American journal of ophthalmology 2005;140:45-51.

Priem HA, Kijlstra A, Noens L, Baarsma GS, De Laey JJ, Oosterhuis JA. HLA typing in birdshot chorioretinopathy. American journal of ophthalmology 1988;105:182-5.

Hirose T, Katsumi O, Pruett RC, Sakaue H, Mehta M. Retinal function in birdshot retinochoroidopathy. Acta ophthalmologica 1991;69:327-37.

Kiss S, Ahmed M, Letko E, Foster CS. Long-term follow-up of patients with birdshot retinochoroidopathy treated with corticosteroid-sparing systemic immunomodulatory therapy. Ophthalmology 2005;112:1066-71.

Cervantes-Castaneda RA, Gonzalez-Gonzalez LA, Cordero-Coma M, Yilmaz T, Foster CS. Combined therapy of cyclosporine A and mycophenolate mofetil for the treatment of birdshot retinochoroidopathy: a 12-month follow-up. The British journal of ophthalmology 2013;97:637-43.
Back