Figure 1. A yellowish-white preretinal lesion is present just inferotemporal to the left optic disc. It is mulberry shaped and has fine surface vessels.
A 91-year old lady was referred by another ophthalmologist with a mass in her left eye.
A 91-year-old lady was referred by another ophthalmologist with a yellowish-white, mulberry shaped mass in her left eye (Figure 1) . This had been detected incidentally on routine fundus photography taken by her optometrist.

Visual acuity was 6/7.5 in both eyes. Intraocular pressures were normal. Other than the fundus lesion and presence of intraocular lenses, the rest of the ocular examination was unremarkable.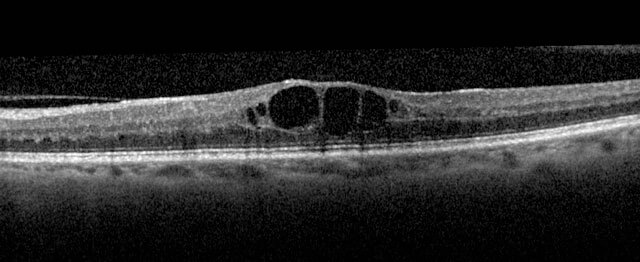 Figure 2. OCT demonstrates cystoid macular oedema
The differential diagnosis of a yellowish-white preretinal lesion in the fundus includes:

Granuloma (tuberculosis, sarcoidosis etc.)

Retinal astrocytic hamartoma

Acquired retinal astrocytoma

Retinal gliosis

Presumed Solitary Circumscribed Retinal Astrocytic Proliferation (PSCRAP)

Retinoblastoma

Retinocytoma

Combined hamartoma of the retina and RPE
Additional history, examination and investigations
The lesion was hyperautofluorescent, and linear streaks were seen around the optic nerve on fundus autofluroescence (Figure 2). White "dots" were seen on near infrared imaging (Figure 3). On optical coherence tomography (OCT), intralesional cavitations were noted (Figure 3). A B-scan ultrasound showed an echodense preretinal mass with posterior shadowing (Figure 4).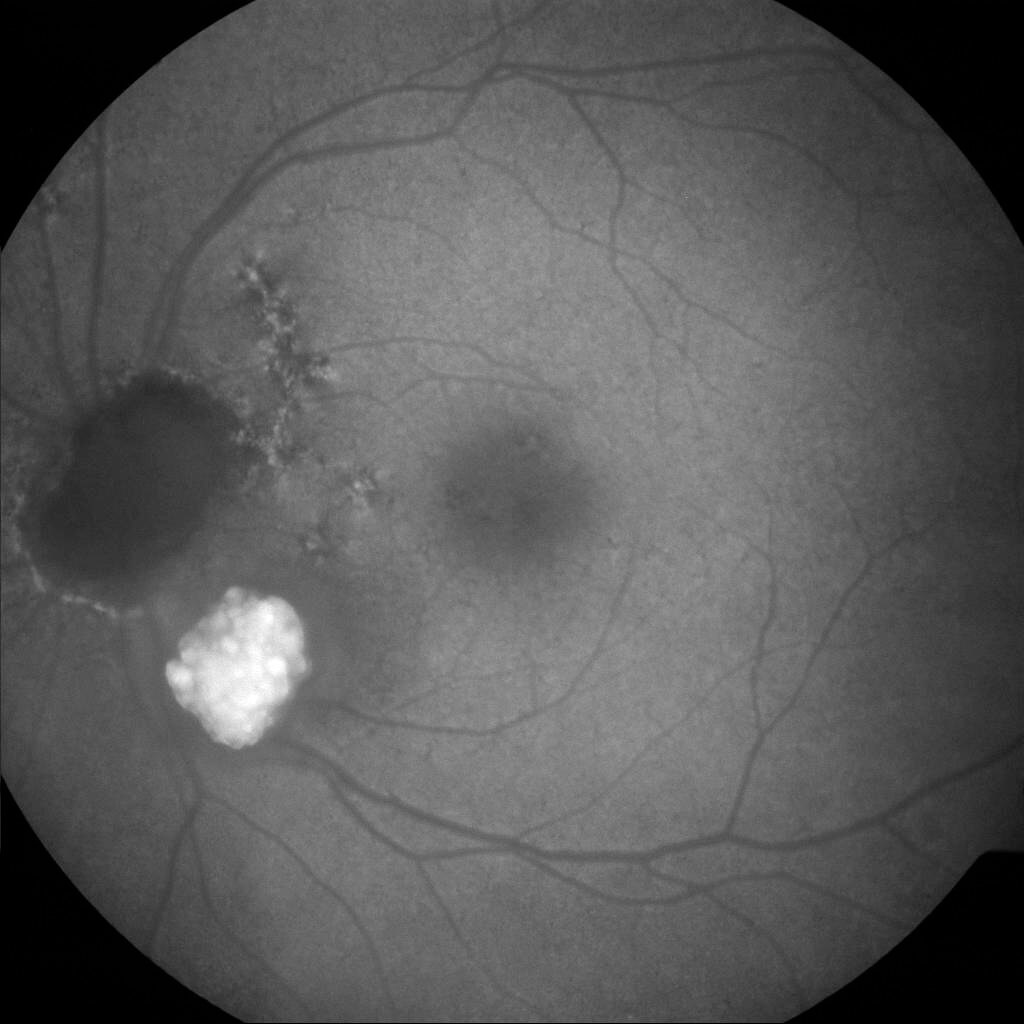 Figure 2. Fundus autofluorescence shows the lesion to be hyperautofluorescent. There are linear streaks emanating from near the optic disc.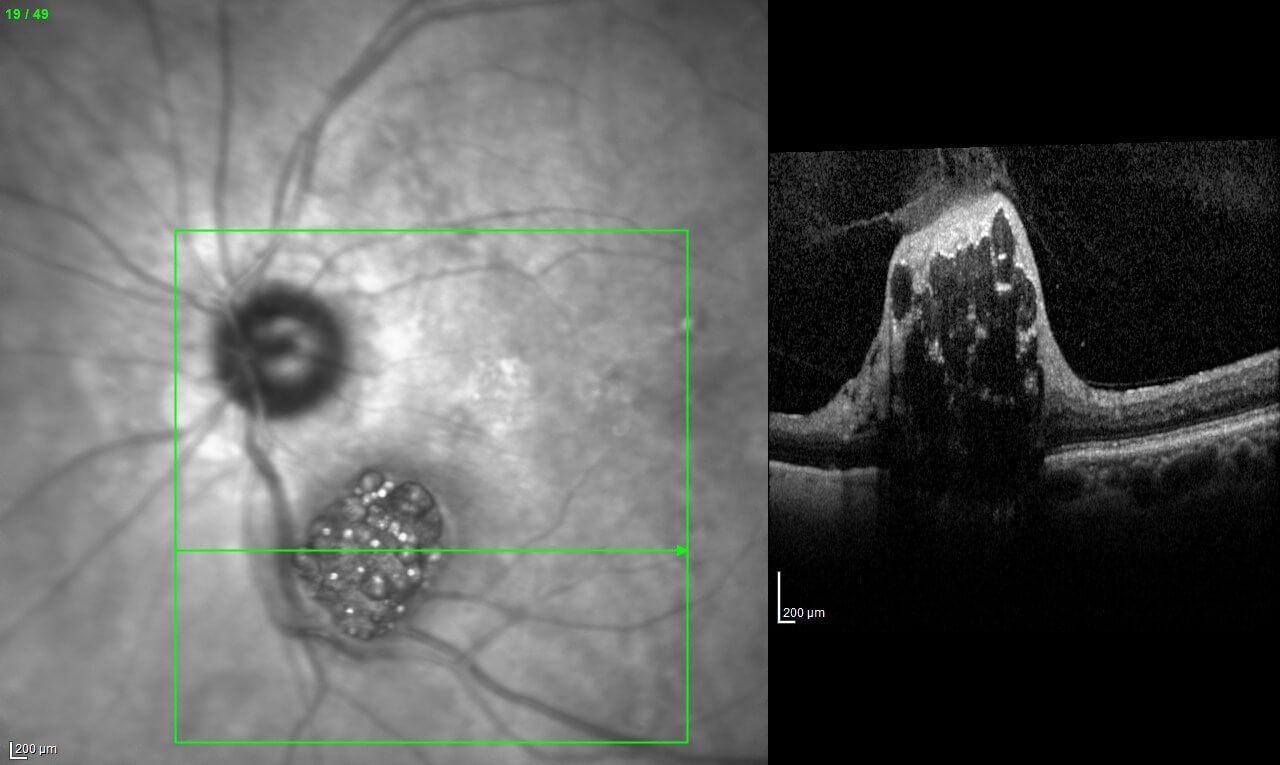 Figure 3. Left: Near infrared imaging shows the mulberry shaped lesion to have white "dots" interspersed throughout it. Right: On optical coherence tomography there are intralesional cavitations.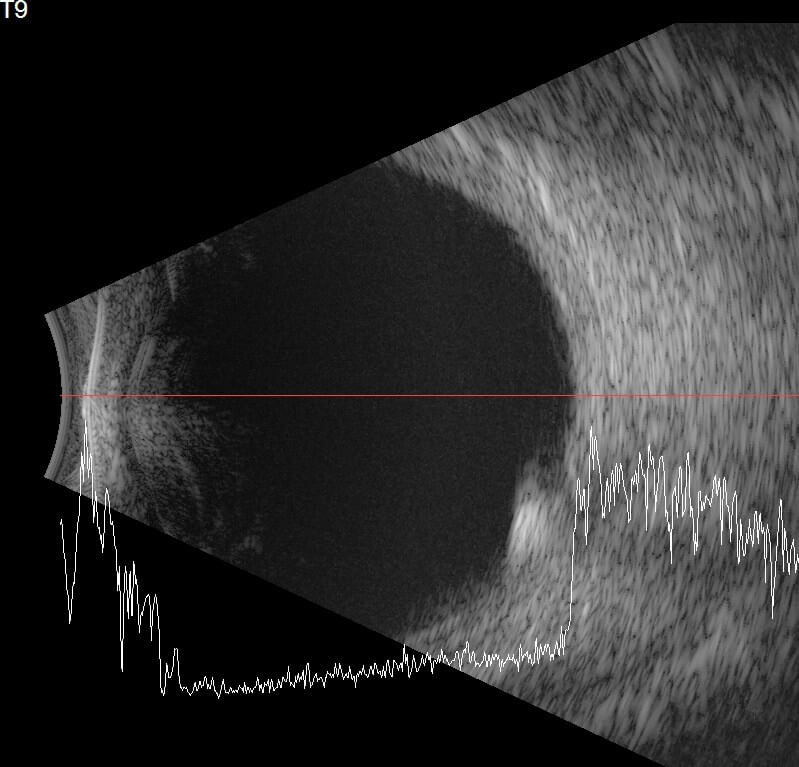 Figure 4. B-scan ultrasound shows an echodense lesion with posterior shadowing.
DIAGNOSIS
Retinal astrocytic hamartoma.
The patient was asked to follow up at 3 months, at which time there was no change.
Retinal astrocytic hamartoma is a benign intraocular tumour that presents as a yellowish-white, retinal mass that often protrudes above the retina. It has a mulberry like appearance with intralesional calcification.(1)

Histopathologically the lesion consists of fibrous astrocytes with interlacing cytoplasmic processes involving the inner or full thickness of the retina.(2) Foci of calcification can be identified by near infrared imaging and by shadowing on OCT and B-scan ultrasonography.(1) Intratumoural cavities can be beautifully identified on OCT, as in this case. Tumours can be associated with fine vessels and retinal traction, but usually remain stable without affecting vision. Rarely, it can be associated with exudation, choroidal neovascularisation and haemorrhage.(3)

The differential diagnosis of the lesion has been listed above. In contrast to retinal astrocytic hamartoma, acquired retinal astrocytomas are not calficied and tend to be progressive with traction and exudation.(4) They do not have systemic manifestations. Retinal gliosis occurs secondary to inflammation, trauma or infection. Presumed Solitary Circumscribed Retinal Astrocytic Proliferation (PSCRAP) is a recently described lesion that is usually stable but is not calcified or associated with systemic manifestations. Retinoblastoma is an important differential diagnosis that needs to be considered in the paediatric population.

Most retinal astrocytic hamartomas are associated with either tuberous sclerosis or neurofibromatosis type 1. Both of these conditions have an autosomal dominant inheritance. Tuberous sclerosis often presents with skin changes (adenoma sebaceum on the cheeks, ash leaf spots, shagreen patches), cerebral tubers and astrocytomas (causing epilepsy and mental retardation) and visceral tumours in the heart (rhamdomyomas) and kidneys (angiomyolipomas).(5) Neurofibromatosis type 1 is associated with skin changes (non-cancerous neurofibromas, cutaneous café au lait spots and freckling in the axilla or inguinal regions). Ocular manifestations include plexiform neurofibromas of the eyelid and orbit, sphenoid bone dysplasia, prominent corneal nerves, Lisch nodules on the iris and optic nerve gliomas. Sometimes retinal astrocytic hamartomas can be isolated (like in our case), unassociated with systemic disease.(2)
TAKE HOME POINTS
Retinal astrocytic hamartoma is an intraocular tumour of the retina that presents as a characteristic yellow-white, calcified, mulberry-shaped lesion.


Most cases do not affect vision and are benign.


Most cases are associated with tuberous sclerosis or neurofibromatosis type 1.
REFERENCES

Shields CL, Benevides R, Materin MA et al. Optical Coherence Tomography of Retinal Astrocytic Hamartoma in 15 Cases. Ophthalmology 2006;113:1553-1557.

Apple DJ, Bonuik MM. Solitary Retinal Astrocytoma: Clinical Pathological Review. Surv Ophthalmol 1985;30:173-181.

Shields CL, Materin MA, Marr BP et al. Resolution of Exudative Retinal Detachment from Retinal Astrocytoma following Photodynamic Therapy. 2008;126:273-274.

Shields CL, Shields JA, Eagle Rc, Cangemi F. Arch Ophthalmol. Progressive Enlargement of Acquired Retinal Astrocytoma in 2 Cases. Ophthalmology 2004;111:363-368.

Leung AKC, Robson LM. Tuberous Sclerosis Complex: A Review. Journal of Pediatric Health Care. 2007;21:108-114.
Back