Figure 1. Colour fundus photograph of the right eye reveals a whitish discolouration of the retina temporal to the fovea.
A 28-year-old Asian male was referred by his optometrist after being hit in his right eye by a basketball.
A 28-year-old Asian male was referred by his optometrist after being hit in his right eye by a basketball the day before. He reported slight blurring of his vision and was moderately myopic but otherwise had no significant past ocular or medical history.

On examination his visual acuities were right (OD) 6/9 and left (OS) 6/4.8 (no improvement with pinhole). Intraocular pressures were 14mmHg OD and 12mmHg OS. Anterior segment examination showed some mild corneal oedema, 3+ microhyphema and 1mm anisocoria with the right pupil being larger than the left. This anisocoria was greatest in lighted conditions and was less pronounced in the dark. There was no relative afferent pupillary defect. Posterior segment examination demonstrated whitening of the retina temporal to the fovea (Figure 1). This had a well demarcated border and extended superotemporally (Figure 2). A scleral depressed peripheral retinal examination failed to detected any retinal breaks or dialysis. Optical coherence tomography through the fovea was normal.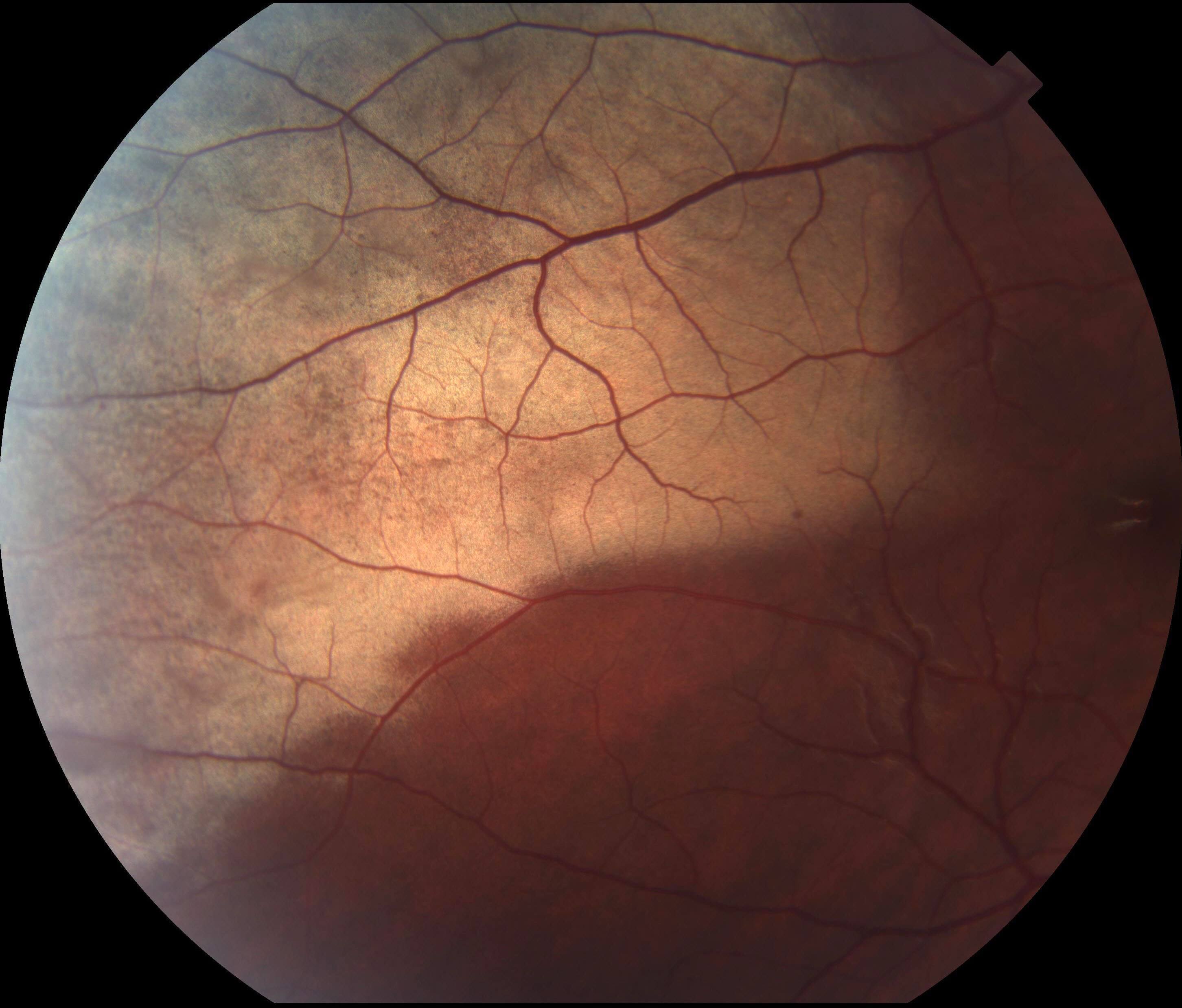 Figure 2. The retinal whitening extends along the superotemporal vascular arcade.
The differential diagnosis of retinal whitening includes:

Infective retinitis (CMV; HSV/VZV in acute retinal necrosis)

Cotton-wool spots

Retinal arteriolar occlusions

Commotio retinae
DIAGNOSIS
Given the history of blunt ocular trauma, a diagnosis of commotion retinae with microhyphaema and traumatic mydriasis was made.
The patient was prescribed dexamethasone (Maxidex™) eyedrops 6X/day and told to minimise activity with elevated bedrest for his hyphaema. He was warned of the symptoms of retinal detachment and asked to present urgently if these occurred. At the one week review the hyphaema, traumatic anisocoria and commotio retinae were resolving. By 1 month his vision had improved to 6/6 in the right eye and all signs had resolved. Gonioscopy showed a normal drainage angle without evidence of angle recession. Follow-up care was arranged with his optometrist.
Blunt ocular trauma is a common cause of visual impairment in the younger population. Frequent causes include assault, ball sports (soccer, golf, squash, basketball) and work place related injuries.1 The mean age of injury is around 30 years, with a higher incidence in males.1 Almost any structure in the eye can be damaged, including the:

Orbit


Wall fracture: Enophthalmos, hypoglobus, restricted extraocular movements

Eyelid

Globe rupture

Anterior segment


Hyphaema

Irido(cyclo)dialysis

Cataract

Phacodonesis

Intraocular pressure


Elevated: Red cell/ghost cell/phacoanaphylactic/angle recession glaucoma

Reduced: Globe rupture, cyclodialysis

Posterior segment


Vitreous haemorrhage

Commotio retinae

Retinal haemorrhages

Retinodialysis

Retinal tear

Rhegmatogenous retinal detachment

Choroidal rupture with or without secondary choroidal neovascularisation

Macular hole

Traumatic optic neuropathy

Optic nerve avulsion
Commotio retinae refers to transient, self-limited deep retinal whitening that follows up to 10% of cases of blunt ocular trauma.(2) This whitening can take several hours to manifest ophthalmoscopically(3) and is most commonly found inferotemporally (37%), temporal (17%) or superotemporally (17%)(4). Originally described in 1873, it was initially thought to be due to extracellular oedema.(5) However, experimental animal studies have shown it to actually represent disruption of the photoreceptor outer segments and retinal pigment epithelium (RPE) with variable degrees of necrosis and apoptosis.(3,4,6-8) This has been confirmed by a single case of a human eye with commotion retinae that was enucleated and examined less than 24 hours following blunt trauma. In addition, high-resolution optical coherence tomography (OCT) studies concur with these findings.(9-11) The retinal changes are thought to be secondary to the concussive forces being transmitted to the posterior segment.

Although the clinical features of commotio retinae usually resolves spontaneously, permanent visual defects can ensue. This is most commonly seen following macular involvement where the median presenting visual acuity is 6/12 and improves to ≥6/9 on final follow up in 74% of patients.(4) Grading by OCT of macular commotio has been proposed, with loss of reflection in the cone outer segment tips (COST), inner segment-outer segment junction (ellipsoid layer) and external limiting layer being associated with a poorer final visual acuity.(1) Surprisingly, even extramacular commotio can be associated with visual deficits, perhaps due to occult macular injury.(4) No known specific treatment exists for commotion retinae.
TAKE HOME POINTS
Commotio retina refers to transient opacification of the retina secondary to blunt ocular trauma.


Histological and optical coherence tomography studies have shown that the whitening represents disruption of the photoreceptor outer segments and retinal pigment epithelium.


Although the clinical findings usually resolve, permanent visual effects may ensue, particularly if the macula is involved and there is severe disruption of the outer retina on optical coherence tomography.
REFERENCES

Ahn SJ, Woo SJ, Kim KE, Jo DH, Ahn J, Park KH. Optical coherence tomography morphologic grading of macular commotio retinae and its association with anatomic and visual outcomes. American Journal of Ophthalmology 2013;156:994-1001.e1.

Atmaca LS, Yilmaz M. Changes in the fundus caused by blunt ocular trauma. Annals of Ophthalmology 1993;25:447-52.

Youssri AI, Young LH. Closed-globe contusion injuries of the posterior segment. International Ophthalmology Clinics 2002;42:79-86.

Blanch RJ, Good PA, Shah P, Bishop JR, Logan A, Scott RA. Visual outcomes after blunt ocular trauma. Ophthalmology 2013;120:1588-91.

Berlin R. Zur sogenannten. Commotio retinae. Klin Monatsbl Augenheilkd 1873;11:42-79.

Blight R, Hart JC. Structural changes in the outer retinal layers following blunt mechanical non-perforating trauma to the globe: an experimental study. British Journal of Ophthalmology 1977;61:573-87.

Blight R, Hart JC. Histological changes in the internal retinal layers produced by concussive injuries to the globe. An experimental study. Transactions of the Ophthalmological Societies of the United Kingdom 1978;98:270-7.

Sipperley JO, Quigley HA, Gass DM. Traumatic retinopathy in primates. The explanation of commotio retinae. Archives of Ophthalmology 1978;96:2267-73.

Mansour AM, Green WR, Hogge C. Histopathology of commotio retinae. Retina 1992;12:24-8.

Oh J, Jung JH, Moon SW, Song SJ, Yu HG, Cho HY. Commotio retinae with spectral-domain optical coherence tomography. Retina 2011;31:2044-9.

Souza-Santos F, Lavinsky D, Moraes NS, Castro AR, Cardillo JA, Farah ME. Spectral-domain optical coherence tomography in patients with commotio retinae. Retina 2012;32:711-8.
Back